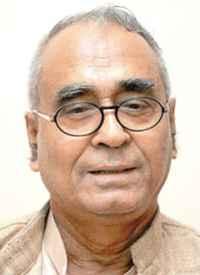 Former Communist Party of India-Marxist leader Abdur Rezzak Mollah is not surprised by the Left rout in West Bengal.

In fact, in an earlier interview to Rediff.com, it was Mollah who had said, "The CPI-M will have a very feeble existence post-election".

"Unless the CPI-M reorganises itself and gets rid of leaders like (West Bengal Left Front chairman) Biman Bose and (former West Bengal Chief Minister) Buddhadeb Bhattacharjee, the Left will be buried for good", Mollah told Rediff.com on Friday once the election results became clearer.

Mollah is worried about the fate of the CPI-M followers in the state, now that the party has been reduced to only one seat in the state.

"I will take part in a meeting with intellectuals and social activists tomorrow and will try to find ways to protect them from getting killed by the Trinamool Congress supporters," the former CPI-M leader told Rediff.com.

"I have always stood and worked for the poor and marginalised people. It's my responsibility to protect them.

"Managers like (CPI-M general secretary) Prakash Karat and (CPI-M Politburo member) Sitaram Yechury should own up the responsibility for their party's debacle and should step aside.

"It's time the Left had better leaders.

"These managers can only discuss and deliberate but can't lead.

"Those at the top need to understand the public pulse", he added.

Mollah feels with Narendra Modi as prime minister, the Central Bureau of Investigation into the Saradha scam probe may not be effective and 'who knows, there might be a clandestine understanding between the two M's so that it's called off'.
Image: Former CPI-M leader Abdur Rezzak Mollah