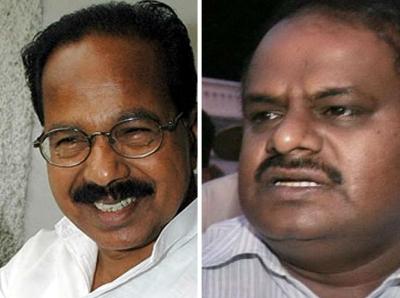 Former Karnataka chief minister H d Kumaraswamy's entry into the Chikkaballapur constituency will make the going tough for his opponent, and Union minister and former chief minister Veerappa Moily, who had won the 2009 election from here comfortably, reports Vicky Nanjappa.
This Lok Sabha elections will see six former former chief ministers of Karnataka in the fray. While they appear to be strong in their respective constituencies, the most interesting battle would be between two former chief ministers, H D Kumaraswamy of the Janata Dal-Secular and Veerappa Moily of the Congress. The others in the fray are N Dharam Singh, B S Yeddyurappa, H D Deve Gowda and D Sadananda Gowda.
The biggest focus would, however, be on the Chikkaballapur constituency where Kumaraswamy will be taking on Moily. Both have their advantages and disadvantages and both had agreed reluctantly to contest from this constituency. Moily's name in fact came out in the last list, much to the surprise of his followers.
It is said that the Congress was not sure of granting him a ticket, doubting his winning capabilities. In the interim, Moily had even pitched the name of his son for a ticket but it was rejected.
Kumaraswamy, too, was a late starter. Originally from the Bangalore Rural constituency, but after his wife Anita Kumaraswamy suffered two consecutive defeats from there, it is said that Kumaraswamy was not sure about fighting the elections from there. Prior to finalising his candidature from Chikkaballapur, he had said that he would first speak with his people in Bangalore Rural, take their approval and then decide.
Prior to Kumaraswamy filing his nomination, it appeared to be easy pickings for Moily, but today that scenario has changed a bit and it appears that it will be a fight to the finish. There are around 16 lakh voters in this constituency mainly comprising Vokkaligas, Other backward Classes and Scheduled Castes.
Both the leaders are on the road seeking votes. Moily can afford to spend more time in the constituency as his focus would be just this one. However, Kumaraswamy, who is the star campaigner for the JD-S, needs to be in other constituencies too. Thus there is a lot at stake for him.
He has to win Chikkaballapur to keep the JD-S flag flying. He has the outsider tag in the town and many of his critics would say that he was afraid of losing Bangalore Rural and hence came here. The fact that his wife lost two elections from Bangalore Rural has also not gone down too well in the party and it has proven that despite having the backing of her husband, she was unable to pull off a victory especially in a JD-S stronghold.
Kumaraswamy is relying heavily on the two lakh Vokkaliga votes in his constituency which has 16 lakh voters. Although the Vokkaligas appear to be leaning towards Kumaraswamy, he runs the danger of his votes being split by BJP candidate B N Bache Gowda, who is also from the same community.
Moily, on the other hand, will rely on the rest of the votes. He had the outsider tag the last time he contested from here in 2009. He won that election by around 51,000 votes.
"I am confident that I will win this time as the people of the constituency are happy with me. Moreover, this has been a traditional Congress bastion since 1977," he points out. He also says that the caste factor has not made a difference here since the people have never voted on that basis.
However, there are some voters who don't agree with Moily. The general feeling is that he has changed after he became a Union minister.
"The humility has returned now that he has to seek votes, but in the past five years we hardly saw him in the constituency," says Rajanna, a voter. Several others also point out that two major problems, illegal sand mining and drinking water problems in 200 villages in the constituency, have not been addressed yet.
Many are also waiting for the government to develop it into a satellite town in a bid to reduce the congestion in Bangalore. The other complaint is that despite it being such a beautiful place, there has been no emphasis on tourism.
Kumaraswamy has a hectic schedule everyday. Apart from going to other constituencies, he ensures that he spends a considerable amount of time in Chikkaballapur. "I am confident of winning. My opponent has been named by the Aam Admi Party in the list of corrupt people," he says without naming Moily. "It does not matter if I am new to this constituency. What matters is that the BJP and the Congress are corrupt parties, and that will work in my favour," he says.
Apart from the two ex-CMs, Bache Gowda of the BJP and K Arkesh of the Aam Aadmi Party are also in the fray.
Gowda has been a former minister in the BJP government. Although he appears confident, many feel that his chances are bleak. He is banking on the fact that the BJP will form the government in Delhi and this would help the constituency a great deal if he is elected.
On the other hand, Arkesh is attempting to spread the AAP's message. He speaks of corruption issues raised by his party. He also quotes the fact that Arvind Kejriwal, during his visit to Karnataka, had seen potential in Chikkaballapur and taken out a road show here.
In all, there are eight assembly constituencies in Chikkaballapur. Four are held by the Congress, two by the JD-S, one by the BJP and one by an Independent who is leaning towards the Congress.