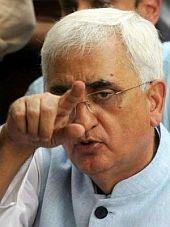 Union Minister Salman Khurshid has raked up a fresh controversy by questioning the "clean chit" given to the Bharatiya Janata party's prime ministerial candidate Narendra Modi by a lower court in 2002 Gujarat riots. "A magistrate's court has not summoned him.... It is true.... its like a nursery student getting a good grade and thinking that he has become a doctor and goes around claiming to be a PhD. How can that happen?" Khurshid told mediapersons on Tuesday in reply to a question.
He said, "In Gujarat, the incidents that happened when he (Modi) was chief minister, around 170 people have been given life imprisonment in connection with that. Maya Kodnani was his minister."
The minister had stoked a controversy last month terming Modi as "impotent" and later party Vice President Rahul Gandhi had to say that he did not approve of such language. Khurshid had then said that he had not crossed a line by describing Modi as "impotent" for his handling of the 2002 riots, insisting that he had meant "administrative incompetence" but it was too mild in this case.
On the controversy over a claim that WikiLeaks founder Julian Assange endorsed Modi as "incorruptible", he said, "I don't understand that someone who is so confident, why does he need to go around seeking support to establish his dominance. I am surprised."
"And when there is a rebuttal, they say they don't need a certificate from WikiLeaks." The whistle-blower website had also disclosed a secret cable by a senior US diplomat eight years ago that described Modi as a "distrustful person" who reigns more by "fear and intimidation".
Reacting to the external affairs minister's remarks, BJP spokesperson Prakash Javadekar said, "What Khurshid is saying needs to be rubbished, is rubbish because he is denigrating the court. What is lower and higher judiciary? A Court is a court and the matter was before the court and the court has given a clean chit. The special investigation team appointed by the Supreme Court has given a clean chit. Still they want to rake up only 2002 (riots)."
"This is what Rahul is doing, this is what is echoed by Khurshid and other Congress leaders. This is what is being done by Aam Aadmi Party." Javadekar said, "They want to continue the debate but the debate would not give any result now because Muslims and all sections of the society have moved ahead in Gujarat. They want faster progress and want to give a decisive mandate. In desperation and frustration, Khurshid is using such language which we condemn."
Hitting back at the BJP, Congress leader Kapil Sibal said that the party should condemn Modi for the comments he has made in the past."What the BJP does, what it doesn't do, they should also condemn Modi then. Then they should condemn Modi for the comments he has made in the past. So what's the point of
saying BJP has done this.Forget BJP, the fact is what is the fight today? What is the challenge in front of the nation, the country's unity or division? Peace or anarchy? .... Another challenge is whether the country accepts false claims or truth," Sibal said.
Attacking the Congress, BJP vice president Mukhtar Abbas Naqvi said, "Congress party and its leaders do not understand how to react on the political atmosphere in the country. They do not understand how to accept the pro-development change, pro-Modi atmosphere in the country. They don't seem to digest that."
He accused the Congress of making "childish and baseless" claims about the Gujarat chief minister, saying "This is the depression caused due to fear of defeat in leaders of the Congress party.... The Congress' sinking ship is being sunk even further by such claims. Nobody needs to do anything."
Janata Dal-United spokesman K C Tyagi said that if someone gets acquitted by a lower or higher court that does not mean his mindset has changed. "We also blame Modi for the fact that due to such a mindset, he let a mass-murder take place. If because of lack of evidence or witnesses, he is acquitted, still he is the one responsible....," he alleged.