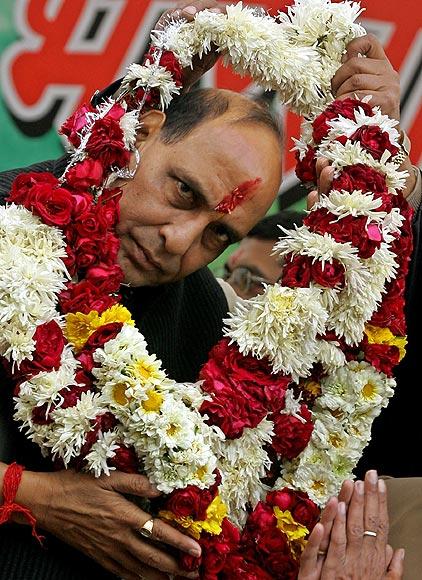 Rita Bahuguna Joshi, senior Congress leader, is the party's candidate from Lucknow parliamentary constituency.

She is the sitting MLA from Lucknow Cantonment. Poll pundits have forecast a direct contest between her and BJP president Rajnath Singh (62), who is trying his luck from Lucknow for the first time.
Known not for mincing words, she is trying to win the constituency her father late Hemwati Nandan Bahuguna represented in the 70s. She had lost to BJP's Lalji Tandon in 2009 Lok Sabha poll. In an interview with Virendra Singh Rawat, she talks about her chances against the BJP supremo.

Edited excerpts:
Given that pollsters are keenly watching Lucknow, how confident are you of winning?

I am fully confident of my win. I have always contested against senior leaders in the past. However, I must admit that I do not have the same kinds of resources that the BJP candidate has. They are spending money like water.

How is your campaigning progressing?

I have been meeting people and holding election meetings ever since my candidature was announced by the party. In 30 days, I think we would be organising 125-150 election meetings, including small nukkad sabhas.

Samajwadi Party recently nominated state minister Abhishek Mishra to contest from Lucknow, replacing its national general secretary and former minister Ashok Bajpai. Your take.

It is clearly a ploy by the Samajwadi Party to divide votes and indirectly help Rajnath Singh. It has been done to create confusion amongst voters. The two parties are hand in glove with each other. Even AAP has fielded a Muslim candidate (actor Javed Jaffery) from Lucknow, which would further divide secular votes and help Rajnath.

Are you suggesting that all this is being done to benefit the BJP?

This is all part of the backroom manipulation by the BJP to ensure the victory of Rajnath Singh by creating confusion and dividing votes. The voters are intelligent enough to see this game plan.

What factors do you think would work in your favour at the hustings?

The people are with the Congress. The BJP has neglected women by not fielding any woman candidate from Lucknow seat.
Image: BJP leader Rajnath Singh