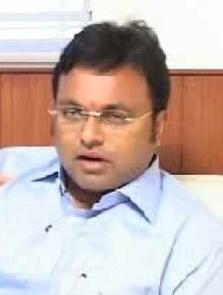 Rubbishing the Bharatiya Janata Party's charge that his father was "running away" from contest, Karti Chidambaram, son of Union Finance Minister P Chidambaram, on Friday said the saffron party has no locus standi to make such a comment.
"It is not right to say that my father is running away from the contest and is scared of defeat. What locus standi has BJP spokesperson Nirmala Seetharaman got to comment when she herself never fought an election," Karti said, slamming BJP remarks while speaking to PTI.
"My father won seven times in a row. He has contested nine times since 1977," Karthi, whom the Congress has nominated as its candidate from Sivaganga seat, hitherto held by his father, said. The young leader, who will be making his electoral debut, debunked theories being circulated by opponents that Congress was on a weak wicket in Tamil Nadu, fighting the election on its own without allies.
On the focus of his campaign, he said Congress was strong in Sivaganga through years of hard work, aimed at inclusive growth and bringing many welfare schemes, by his father. "I will fight the polls on the strength of my party. We will showcase our work which has transformed lives. We have nurtured this constituency, many welfare schemes were brought here for 1the benefit of the people," he said.

On other aspects he would cover in his propaganda,he said the party would target the myriad "shortcomings" of the All India Anna Dravida Munnetra Kazhagam regime. "In the past three years, this government has opened one TASMAC (liquor) outlet after the other across the state and this has an adverse societal impact. We will be talking about all this to the people."
Earlier, BJP sopokesperson Nirmala Seetharaman had said that, "The (person) who served as the finance minister for seven out of 10 years is not even contesting. He is running away from the contest. He is not willing to face the voting public to give answers as to what his achievements were."