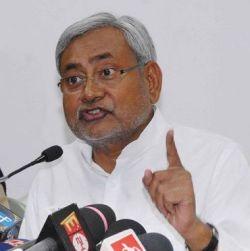 In a setback to Bihar Chief Minister Nitish Kumar, ruling Janata Dal-United candidate from the Muslim-dominated Kishanganj parliamentary constituency, Akhtarul Iman, on Tuesday announced that he would not be contesting the Lok Sabha polls.
Kishanganj will go to polls on April 24. "I will not contest the polls to stop the split of secular votes and to ensure defeat of the Bharatiya Janata Party from Kishanganj," Akhtarul said. Akhtarul, who resigned as a Rashtriya Janata Dal legislator last month and joined the JD-U, was fielded as its candidate from Kishanganj.
Akhtarul said that in Kishanganj, the BJP is heavily depending on polarisation of Hindus cutting across castes, to defeat a Muslim candidate in the Lok Sabha polls on the basis of the sharp split of the votes.
Muslims make up 66.7 percent of the over 16 lakh voters in Kishanganj. There are nearly 400,000 Hindu voters in the constituency.
It is said that Kishanganj may be a Muslim-dominated constituency, but the party or candidate who receives the most Hindus votes could be a surprise winner. That is because the Muslim votes are split among several candidates in the fray.
Keeping this in view and apprehension of a likely defeat, Akhtarul, who is a young and articulate orator, said that his presence in the fray would not only divide Muslims, but will also help BJP candidate Dilip Jayswal.
In the past, Muslim leaders have won elections from here -- leading journalist and author M J Akbar (Congress) in 1989 and Syed Shahabuddin (Janata Dal) in 1991, for instance. When BJP's Syed Shahnawaz Hussain won from here in 1999, he was an unknown face, but after that victory he not only became a Cabinet minister, he is now the Muslim face of the saffron party. It was different matter that he was defeated from Kishanganj in 2004.
Satyanaran Madan, a political watcher, said that the Hindus in Kishanganj vote with a minority mindset. "Any candidate who will get more Hindus votes will win the election here," he says.