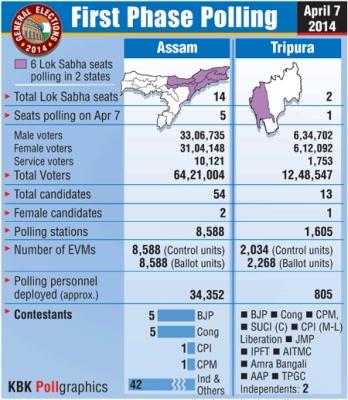 A Total 64,41,635 voters are expected to exercise their franchise in the first phase
of polling to be held in five parliamentary constituencies Assam namely, Tezpur, Kaliabor, Jorhat, Dibrugarh and Lakhimpur on April 7. The electorate comprise of 33, 21,567 male voters and 31, 20,067 female voters. Campaigning for the first phase has come to an end in the state on Saturday afternoon.
A total 51 candidates are in the fray in the first phase, some of the prominent among them being Assam Chief Minister Tarun Gogoi's son Gourav Gogoi, veteran Congress leader and former Union Minister and six-time Member of Parliament Bijoy Krishna Handique, Union Minister Paban Singh Ghatowar, Union Minister Ranee Narah, All India Congress Committee general secretary Bhupen Kumar Borah, state Bharatiya Janata Party president Sarbananda Sonowal and sitting Asom Gana Parishad MP Joseph Toppo.
Altogether nine candidates are in the fray in Tezpur Lok Sabha seat, where the electoral battle will be a triangular contest among Congress candidate Bhupen Kumar Borah, AGP candidate and sitting MP Joseph Toppo and BJP's Ram Prasad Sharma. There are total 12,55,939 voters in Tezpur constituency.
Gourav Gogoi is the Congress candidate from Kaliabor constituency. In his maiden election, the junior Gogoi faces challenge from AGP candidate Dr Arun Kumar Sharma and BJP's Mrinal Kumar Saikia. There are total 13 candidates in the fray whose fate will be decided by total 14,46,408 electorate. The constituency has been in the grip of Gogoi family since 1991 being represented by Tarun Gogoi (1991, 1998, 1999) and his brother Dip Gogoi (2001 by-election, 2004, 2009).
In Jorhat constituency where total 10 candidates are in the contest, BJP candidate Kamakhya Prasad Tasa is posing challenge to veteran Congress leader and six-time MP Handique, 82. The AGP candidate Prodip Hazarika too is in the reckoning. A total 11,87, 779 voters will decide the fate of candidates in the constituency.
Fate of Union minister and a veteran tea tribe community leader Paban Singh Ghatowar
(Congress) will be decided along with five other candidates will be decided by total 11,22,395 voters in the Dibrugarh constituency. Ghatowar, the sitting MP, is being challenged most by the BJP's Rameswar Teli and AGP's Anup Phukon.
In Lakhimpur constituency in eastern Assam where voters from Mising tribe and Ahom communities hold the key to the fate of candidates in the fray, is witnessing contest among 13 candidates. The main fight, however, is confined between Narah (Congress), and the BJP's Sonowal. The constituency has total 14,29,098 voters.
The five constituencies going for polls in the first phase have prominent blocs of voters from certain communities such as the tea tribe voters in Dibrugarh, Jorhat , Tezpur and Kaliabor constituency; sizeable Muslim voters' blocs in Kaliabor and Tezpur constituencies. The Mising tribe and Ahom community voters are dominant in Lakhimpur constituency.


Graphic: KBK Graphics