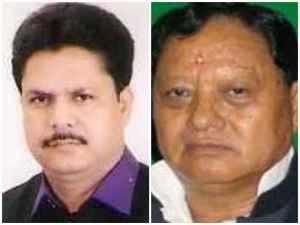 The presence of a rebel Congress candidate Mani Kumar Subba, a former MP, in the fray has complicated equations in Assam's Tezpur parliamentary constituency where Congress vice president Rahul Gandhi's choice Bhupen Kumar Borah is finding the going tough amid 'Modi wave' sweeping across the seat.
Subba, who has been expelled from the Congress for six years for contesting as an independent in Tezpur Lok Sabha constituency after he was denied a party ticket, is set to eat into the party support among the 1.85 lakh strong Nepali voters' block in the constituency.
Subba will do everything possible to defeat the Congress candidate to take revenge, it is believed.
The Congress has accused the opposition Bharatiya Janata Party candidate Ram Prasad Sharma of striking nexus with
outlawed National Democratic Front of Bodoland (Sangbijit) which had earlier announced its intention to oppose Congress in the polls because of the party's opposition to separate state demand of Bodos.
The aged father of the Congress candidate has even put up a prayer before the Election Commission to provide special security to his son in view of threat to his life.
The BJP candidate has, however, denied having any nexus with insurgent groups and stated that his stood for restoration of peace through dialogue with armed groups and alleged the Congress of trying to defame him through false allegations.
However, that has not prevented the ruling Congress from filing a police complaint against Sharma and two other BJP leaders accusing them of having links with the insurgents.
The constituency is witnessing an intense campaigning by the top-notch leaders of both the Congress and the BJP. For the Congress both Sonia and Rahul Gandhi have campaigned for the party candidate Bhupen Kumar Borah while Narendra Modi has sent jitters down the ranks of Congress by addressing a massive rally in the constituency for the party candidate Ram Prasad Sharma at Bishwanath Charilai.

The regional Asom Gana Parishad candidate Joseph Toppo, the sitting MP, is making steady progress in the electoral race while Congress and the BJP are engaged in high voltage electioneering.
Toppo's strong point is that he is a Christian from tea tribe community and Tezpur constituency has over 2.75 lakh tea workers' votes including 1.25 lakh tea workers from the Christian community.
Tezpur also has a traditional base of the AGP among the six lakh Assamese-speaking voters who are being wooed by all the three major contenders.
The presence of over two lakh Muslim voters is a strength for the Congress candidate while over 56,000 tribal communities' voters are likely to get divided among the three key parties in the fray.
Image: (Left) Congress candidate Bhupen Kumar Borah and Independent candidate Mani Kumar Subba