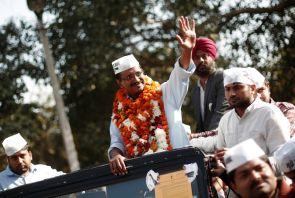 Posters accusing Aam Aadmi Party chief Arvind Kejriwal of being on a "mission" to prevent BJP prime minister nominee Narendra Modi from forming government at the Centre have surfaced across the city.
The posters, appearing at three places in the city, also draw a parallel between self-styled godman Asaram and AAP and alleged graft by "anti-national AAP" in distributing party tickets.
"Savdhan India...AAP Mission 2014...Stop Modi to get 272 plus... Unstable government of India," reads one of the posters bearing Kejriwal's caricature.
"Policy and intentions of AAP are both corrupt...Kejriwal ji used to say that we have come to change the politics, but today he himself is changed," another poster claimed.
"Be alert India... Asaram and AAP are similar..Asaram had misguided bhaktas (devotees)...AAP has misguided deshbhaktas (patriots)," alleged another poster displaying images of Kejriwal and Asaram, who is an accused in a rape case.
Gujarat unit AAP convenor Sukhdev Patel has alleged involvement of "big" political parties in putting up such posters.
"This is the pre-calculated agenda of big political parties who want to gather votes by increasing frenzy among the masses," Patel claimed.
He said police and Election Commission should have taken action against similar anti-AAP posters appearing in the city last month.
When asked if putting up posters was the handiwork of AAP dissidents, Patel said, "Nobody is dissident in AAP...They must be those persons who do not have guts to ask for votes in the name of development".
Patel said the party will report this issue to the city police commissioner and the election commission.
While two posters have surfaced in Ahmedabad (West) constituency, another in Gandhinagar constituency.
Image: Arvind Kejriwal waves towards his party supporters during a rally.
Photograph: Adnan Abidi/Reuters