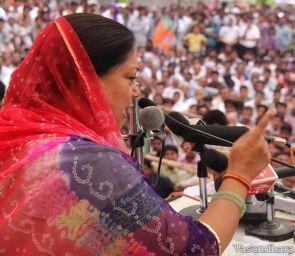 The Rajasthan unit of the Aam Aadmi Party has written to the Election Commission seeking action against Chief Minister Vasundhara Raje for her controversial remarks at an election rally.
Addressing a rally in the Karauli area on Friday, Raje -- hitting back at the Congress after its Saharanpur leader Imran Masood threatened to chop (BJP's prime ministerial candidate) Narendra Modi to pieces in a hate speech -- said it will be seen who cuts whom to pieces.
AAP questioned how Raje could hold a constitutional post after such a hate speech.
"The politics of religion, based on the principle of divide and rule, has been practised by national parties like the Congress and BJP since the last 60 years. As elections approach these parties start polarising the masses through hate speeches and provocative religious remarks," AAP said in a press statement.
AAP has asked the Election Commission to take strict and immediate action against candidates resorting to hate speech to protect national integrity.
Image: Rajasthan Chief Minister Vasundhara Raje