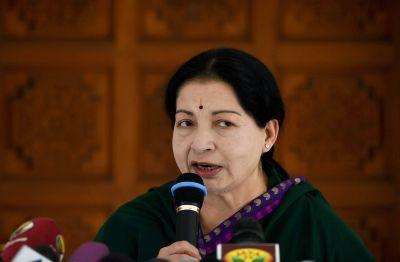 Coming up with a superlative show at the hustings, Tamil Nadu's ruling All India Anna Dravida Munnetra Kazhagam bagged 37 of the 39 Lok Sabha seats at stake, devastating the DMK, the Congress and the six-party Bharatiya Janata Party alliance and turning a new leaf in the state's political landscape by ending the bipolar polity.
The never-before performance, a clean sweep by the Chief Minister Jayalalithaa-headed party coming on a day when she completed three years in office, decimated her opponents, particularly arch-rival DMK, and put her in the driver's seat for the assembly polls due exactly two years from now.
The BJP and its ally the Pattali Makkal Katchi notched up consolation wins in one constituency each while all others, including the DMK, Congress, Left parties and Aam Aadmi Party bit the dust as the votes polled in the April 24 elections.
The massive win came as a replication of the AIADMK's landslide in the 2011 assembly elections in which it won 151 seats in the 234-member House, dethroning the DMK, which the electorate rejected in the wake of scams including 2G that hit the party.
The outcome has come as a stunning blow to the 89-year-old M Karunanidhi-led DMK, already rattled by war among his two sons -- M K Alagiri and M K Stalin -- and its attempts to resurrect its sagging image in this election were brought to a nought by the electorate.
For the first time after a gap of 23 years, the DMK has been blanked out in Tamil Nadu and similar is the fate of the Congress which had encountered a similar fate in 1998.
History repeated itself albeit in a different way with the DMK drawing a blank exactly a decade after the AIADMK faced a similar ignominy in the 2004 general elections.
The 'Amma' wave spread by Jayalalithaa swept away the BJP-led six party alliance that comprised among others cine star headed Vijayakant, Vanniyar-backed PMK and Vaiko's Mamumalarchi DMK.
The only solace for the saffron party, which stormed to power at the Centre with a tsunami of support across the country, was that it won from Kanyakumari, besides another by its ally PMK (Dharmapuri).
Popular among those who lost out in the hustings are the DMK's 2G scam accused Dayanidhi Maran (Central Chennai) and A Raja (Nilgiris-SC) and T R Baalu (Thanjavur), Mani Shankar Aiyar and Karti Chidambaram (Congress), the last two finishing fourth.
Image: Tamil Nadu Chief Minister Jayalalithaa addresses the media after her party came up trumps in the Lok Sabha elections from the state. Photograph: PTI Photo.