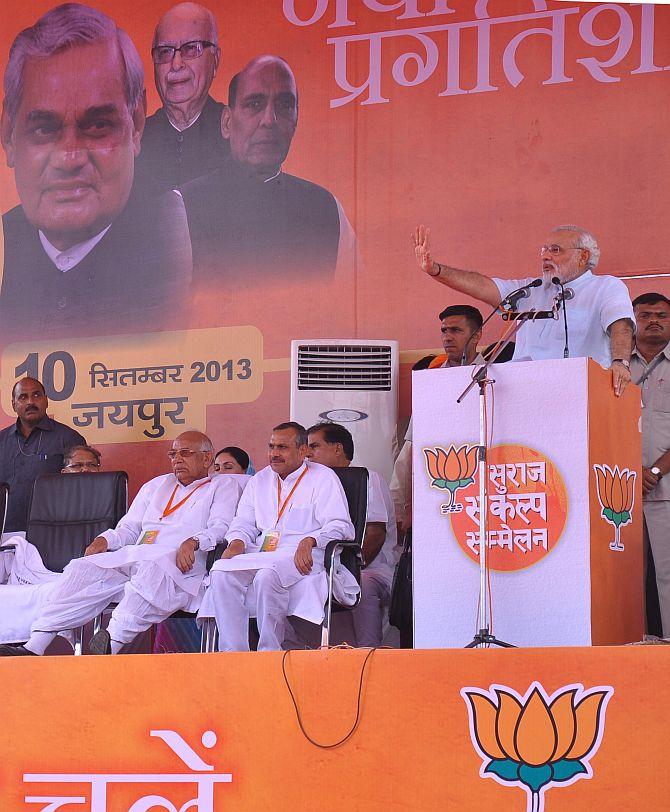 Slamming Opposition which "discarded" his "Gujarat model" before polls, Narendra Modi called himself a "magician" in Ahmadabad and said that he had ensured that his opponents could not escape the issue of development in the campaign.
"Ahead of polls, they (opposition) used to claim that Modi's Gujarat model of development is nothing more than a balloon. Even to negate my claims, they had to mention it inevitably," Modi said, during his massive rally in Ahmadabad on Friday evening.
Special Coverage: Election 2014
"Unko pata nahin tha ke Modi kaisa jadugar hai (They didn't realise what kind of a magician I am). They tried to escape the issue of development, but I forced them to fight precisely on that agenda," he said.
"This election has proved that polls can be won in the country on the issue of development alone. This verdict is a verdict for development, to take India forward and to work hard to fulfill people's dreams," he said.
Modi also lambasted the opposition for being harsh on him.
"This is the second election after the Emergency where people voted for an agenda, rather than going by caste and religion. This result is the answer to those who attacked me fiercely. They did hard work and so much of research to attack me, but finally they lost, he said.
Overwhelmed by his victory, Modi claimed that nobody had ever thought that a single party could form a government without support from the Congress.
"After independence, this is the first party (the BJP), which does not have the Congress genes. This is the first party whose ideology is not from the Congress. You gave us a clear mandate and I promise that I will not break your trust," he said, thanking the people of Gujarat for making him such a big personality.
"This is the power of democracy -- that a boy from a humble family background could reach this stage. People of Gujarat raised me and guided me all the way. No matter where I go, I will always be there for six crore people of Gujarat. Just remember me and I will be in front of you," he said, adding that he considered himself "blessed" after the BJP on all 26 seats in Gujarat.
"It is a dream for any party to claim 26 out of 26 seats. It never happened in the past, but my luck is such that I always get more," he said.