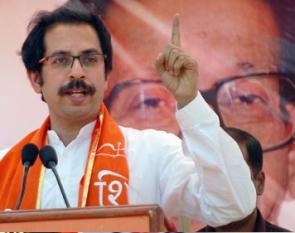 In a riposte to former Bharatiya Janata Party chief Nitin Gadkari's recent overtures to Maharashtra Navnirman Sena chief Raj Thackeray, the Shiv Sena on Friday decided to field its candidates in Uttar Pradesh, Bihar and Delhi for the Lok Sabha elections.
"We have our alliance with the BJP in Maharashtra, not in UP. We will strive to expand our party in other parts of the country. The Shiv Sena will field 20 candidates in Uttar Pradesh," Sena spokesperson Sanjay Raut told reporters.
Similarly, the Uddhav Thackeray-led party will also contest the Lok Sabha elections in Bihar (on five seats) and Delhi (seven seats), said Raut.
The Shiv Sena is said to be miffed due to the recent strain developed in the relations between Uddhav and Gadkari over the latter's luncheon meeting with the MNS chief in Mumbai on March 3.
Meanwhile, Uddhav's son and Yuva Sena president Aaditya Thackeray in a tweet said that the Sena would not field candidates against BJP's prime ministerial nominee Modi (who will contest LS election from Varanasi in UP) and saffron party chief Rajnath Singh (contesting from Lucknow).
"Those who even believe such funny rumours, well, I feel sorry for them. Therefore, obv not contesting in Varanasi and Lucknow," Aaditya tweeted.
Image: Shiv Sena president Uddhav Thackeray