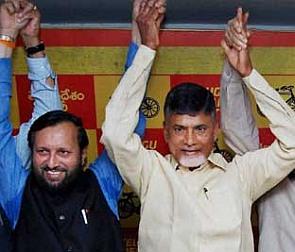 The Bhratiya Janata Party has justified its poll alliance with the Telugu Desam Party in Andhra Pradesh despite critical comments made in the past by TDP chief N Chandrababu Naidu.
Calling it the "need of the hour," Andhra Pradesh BJP president K Haribabu said in Kadapa on Tuesday that the seat sharing accord is for mutual benefit and said that the tie-up would allow the combine to come to power in Andhra Pradesh as well as help the BJP gains in the Lok Sabha elections.
"Yes, it is a fact that TDP president Chandrababu Naidu has stated on many occasions that joining hands with BJP is a political blunder which would never be repeated again in future. However, now the TDP is looking towards the BJP to avoid division of votes between parties opposing the YSR Congress and to regain power in the state," Haribabu told PTI in an interview.
"At the same time, the BJP is also willing to ally with the TDP 'for gaining at the Centre' and to build confidence in voters that the BJP will surely form the government at the Centre. Forget about the past. We are working for the present and for the future," he said.
Haribabu said that while "disciplined" BJP cadre would follow party instructions and work for the victory of alliance candidates, it would be very difficult to get the same co-operation from TDP cadre, for BJP candidates.

BJP nominees may be forced to face stiff opposition and non-co-operation from TDP ticket aspirants in the constituencies allotted to the BJP during seat adjustments.

The TDP has to take steps to prevent such "hazardous actions" from TDP cadre and make them to have faith in the BJP, he said.

Denying apprehensions of a section of BJP cadre that this alliance may hamper BJP's growth in the residual state of Andhra Pradesh and Telangana, which would come into existence as a new state on June 2, he expressed hope that both parties would benefit in the impending elections if they really worked together.
Speaking about development of the residual state of Andhra Pradesh, he assured that the BJP is committed to provide water to the drought-stricken Rayalaseema region.
The party is thinking ways and means to provide water to this region besides completion of the Polavaram project and the Dammugudem-Nagarjunasagar tail pond project. Diverting water from Godavari river is the only way to get water for Rayalaseema, he said.
Haribabu felt that "concentrated" development in Hyderabad is one of the reasons for the bifurcation demand and that BJP is for decentralised development in the new state.
"The new capital should be built in a vacant place of thousand acres for administrative purposes," he said.

There is a possibility of constructing a second capital to hold assembly sessions in one region, like in Maharashtra and Karnataka states, he said.

However, he said that all other offices, which need not necessarily be in the capital, should be established at different places for even development of all districts.
"In a nut shell, our view is for decentralised development" he said.
Talking about Rayalaseema's "underdevelopment" and "injustice" in allocating river water to this famine-affected region, Haribabu said it was not due to "selfish and partisan attitude of coastal Andhra leaders" but the negligent and power mongering political attitude of Rayalaseema leaders, who have been elevated to the highest levels and held the post of chief minister for a number of years.
He said that there are a lot of opportunities for development of these regions and advocated constitution of an agricultural export promotion council as well as maritime development board at the state level.

Exports and imports should be promoted wherever possible in the coastal belt, from Srikakulam to Nellore, he said.
Promoting mineral-based industries, power generation, agro-products export and infotech sector would boost the development of Rayalaseema, he said.
"Within six or seven years, the new state (Seemandhra or residual Andhra Pradesh) will grow to such a level that it will become neighbour's (Telangana's) envy," he said.
For effective administration and comprehensive development, he suggested that each parliamentary constituency should be made as a district consisting of one collector, one MP and seven MLAs.

He appealed to the people of Seemandhra that they should not be disheartened after the recent bifurcation and should instead work with renewed zeal for the development of their state.