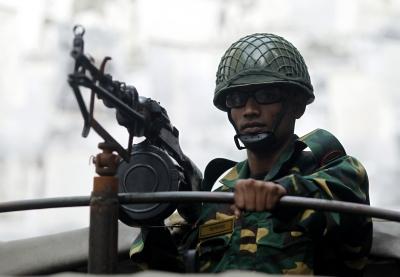 Bangladesh's violence-plagued general elections, being boycotted by opposition Bangladesh Nationalist Party-led alliance, on Sunday witnessed low turn out in initial hours amid heavy security, as voters preferred to stay inside home fearing violence that has left 19 persons dead in last 12 hours.
Polling began at 8 a.m in 147 out of 300 constituencies in 59 districts of Bangladesh, officials said. Paramilitary Border Guards and elite Rapid Action Battalion forces were deployed along with police as 390 candidates of mostly ruling Awami League and its ally Jatiya Party were contesting for the 147 seats in the "one- sided" election, being closely watched by India and the world powers.
There is no election in remaining 153 constituencies which have returned winners without a contest, as opposition Bangladesh Nationalist Party-led 18 party alliance is boycotting the polls.
The voting in 147 constituencies where the number of voters is nearly 44,000,00 is very low, with the turnout being almost zero per cent at several polling centres in initial hours, local media reports said.
A poor turnout would give the opposition the chance to question the legitimacy of today's parliament elections. A similar poll in 1996, boycotted by the opposition which was the Awami League, witnessed a mere 7 per cent turnout and forced Khaleda Zia-led BNP government to call for fresh polls within months under a neutral non-party caretaker system.
Chief Election Commissioner Kazi Rakibuddin Ahmed has said the huge deployment of security forces will give confidence to the voters and enable them to go and vote.
Officials said over 375,000 security personnel were deployed across Bangladesh to maintain peace and nearly 50,000 army troops were kept on vigil as "striking force".
But voting was suspended at 136 centres due to torching of polling booths and snatching of ballot boxes and papers. Opposition activists are burning down polling stations and attacking public transport in a bid to keep voters away from the polls, which they called as "farcical".
The BNP-led opposition had demanded postponement of the polls and setting up of a non-party caretaker government, but Prime Minister Sheikh Hasina rejected the demands. Political violence during strikes enforced by the opposition since November have left nearly 140 people dead.
Hours before the start of voting, suspected opposition activists hacked to death an assistant presiding officer of a polling centre in north-western Thakurgaon while five others were killed in clashes with police across the country.
"The miscreants hacked to death (election official) Jobaidur Rahman with sharp weapons while they set on fire the polling centre using Molotov cocktails...Five policemen were also injured," police superintendent Faisal Mahmud said.
According to TV reports, two opposition activists were killed in clashes with police in neighbouring Rangpur. A youth, believed to be a Jamaat man, was killed in clashes in Nilphamari as the opposition activists tried to torch a polling centre. A BNP activist succumbed to his wounds early today at a hospital in north-western Lalmonirhat, while one truck driver died after struggling for life.
The north-western districts appeared to be major trouble spots as the voting began with reports of violent clashes and attacks on polling centres. Sporadic incidents of violence were also reported from Zia's hometown at southeastern Feni, Laxmipur and northeastern Habiganj.
The authorities suspended polling at more than a dozen makeshift voting centres housed at schools after opposition activists set those facilities on fire.
BNP chairperson Zia and her exiled son and party's senior vice chairman Tarique Rahman have separately issued clarion calls to boycott the polls.
According to TV channels, the voters turn out was less at most of the polling stations due to tensions over the polls but election officials expected more voters later in the day as the voting would continue until 4 pm.
Prime Minister Hasina had last week said that despite her sincere efforts, the BNP declined to contest the polls which must be held to evade a constitutional vacuum after the expiry of the 10th parliament on January 24.
She asked people to cast their votes without fear for continuity of the constitutional process. She, however, hinted that the 10th parliament to be installed after the elections could be short-lived to pave ways for the 11th general election after talks with BNP if it cut off ties with Jamaat, which was opposed to Bangladesh's 1971 independence from Pakistan.
Several leaders supplemented her saying constitutional obligation required the government to go for the polls though it lost the usual euphoric mood in absence of the opposition.
"It is true, this is an election which is being held just to comply with the constitution...if the BNP cuts off their ties with Jamaat a settlement could be reached for the next 11th elections," junior minister for law Quamrul Islam told newsmen at a polling centre in Dhaka.
But Zia asked party supporters to boycott the polls, 1saying "no one at home and abroad will recognise it as election and through this the Awami League government will appear anew as an illegal structure."
Image: A soldier holds his weapon while patrolling a street near a polling centre during parliamentary elections in Dhaka January 5, 2014.
Photographer: Andrew Biraj/Reuters