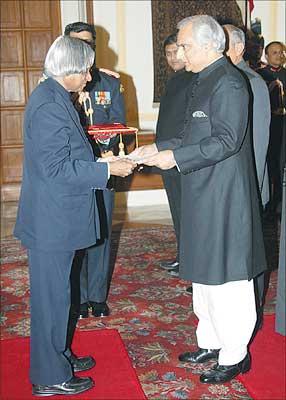 Pakistan High Commissioner Shahid Malik presents his credentials to President A P J Abdul Kalam on Thursday.

Prior to his posting in New Delhi, Malik was Pakistan's High Commissioner to Canada.

A career diplomat, Malik succeeds Aziz Ahmad Khan who returned home last month after a three-year tenure. Malik's earlier stint in New Delhi was as Pakistan's Deputy High Commissioner between 1992 and 1995.
On his arrival in India last month, Malik had told media persons that his top agenda will be to see improvement in bilateral relations.

Photograph courtesy: Rashtrapati Bhavan