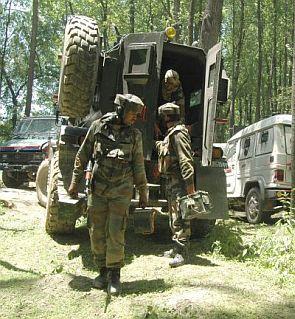 The Indian Army on Friday said it had killed 28 militants on the Line of Control and in the hinterland in Kashmir Valley since the June 24 Hyderpora attack and recovered huge cache of arms and ammunition.
"Since the Hyderpora attack of June 24, there have been a series of successful operations both on LoC and in the hinterland area. We have killed 28 terrorists in this period, out of which 18 were eliminated on the LoC and 10 in the hinterland," GOC of Srinagar-based 15 Corps Lt Gen Gurmeet Singh told reporters in Srinagar.
He said eight of the slain terrorists were those who were injured and crossed back but died immediately on the other side of the LoC. "We have inputs related to their deaths in those areas," he said.

Singh's statement came against the backdrop of incessant firing between Pakistani and Indian troops in Poonch district in Jammu and Kashmir.
The Valley-based top army commander said the success in the operations has been a result of effective counter infiltration grid and integrated intelligence created by different intelligence wings operating in Kashmir.
Singh said there have not been "significant" ceasefire violations from across the border in the Valley, but attempts to infiltrate "are going to be there" in the coming time.

"In the KashmirValley, there has been no significant ceasefire violation, but attempts to infiltrate are there.
"Also, I like to highlight their infrastructure and apparatus close to the launchpad and their activities indicate that they are going to attempt infiltration in the coming time," he said.

Apparently referring to the visit of Jamaat-ud-Dawa chief Hafiz Saeed to the LoC, the GOC said the army is maintaining "high alertness" on the border.
"There is a high alertness on the LoC. There have been continuous efforts for infiltration. The activities and launchpad (across the border) are slightly hiked up. I am also aware about the visit of a senior terrorist and the coordination which is being done on the other side. I am cautious and it is a matter of commitment that we will maintain our effective counter infiltration grid on LoC," he said.
Singh said there will be an "appropriate" response to ceasefire violations and infiltration attempts.
"We are very alert and conscious of the faith the nation has reposed in us. In fact, our drills and procedures of countering ceasefire violation is well rehearsed and there will be an appropriate response," he said.

Singh said militant groups are trying to infiltrate "experienced" ultras to this side of the border as most of the militant leaders here have been "eliminated".

"In the recent operations, we have been able to eliminate a large number of their leaders. A terrorist we killed very recently was aged 55 years -- an experienced and an important leader of Lashkar-e-Tayiba. This slain terrorist was tall, healthy and imposing and indicates that with this level of experience, they (LeT) were trying to induct a senior leader in this area," he said.

Singh said the wallet recovered from him contained Rs 10,000 in Indian currency and Rs 1,000 in Pakistani currency.

He said in the Keran sector of north Kashmir's Kupwara district, Army gunned down four "important" terrorists and recovered six weapons including three AK-47s and one Pika rifle.

The army displayed the huge cache of arms and ammunition including assault rifles, pistols, bullets, clothing materials and medicines - all carrying Pakistan markings.