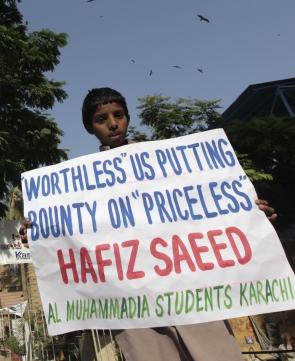 Hafiz Saeed, chief of terror outfit Lashkar-e-Tayiba and prime accused in the 26/11 Mumbai terror strike, has openly challenged India to prove that he is a terrorist.
Indian intelligence agencies have often described Saeed as Pakistan's 'biggest strategic asset'.
The United States administration recently announced that though it had announced a bounty for Saeed, it had little tangible proof against the terrorist.
Indian agencies, on the other hand, do have evidence against Saeed. Both Ajmal Kasab and David Headley, terrorists convicted over the 26/11 attacks, have stated that Saeed is the ideological head of the LeT.
But going after Saeed on the basis of these confessional statements may not be an easy task, pointed out an official from the National Investigation Agency.
It is easier to prove the involvement of LeT operative Zaki-ur-Rehman Lakhvi in the 26/11 terror attack as he was the head of operations and directly instructed terrorists about the details of the strike.
Saeed only met the ten terrorists -- who were sent to Mumbai to unleash terror for days -- a couple of times. He never directly mentioned the attack but tried to motivate the terrorists by talking about the benefits of a holy war.
Even if Saeed were examined by a judicial commission, the evidence on record would be merely circumstantial. Without the cooperation of Pakistani intelligence agencies, garnering prosecutable evidence against Saeed would be a Herculean task.
Pakistani agencies have details about Saeed's movements, his associates, meetings chaired by him etc.
Indian intelligence officials believe that Saeed, unlike many of his contemporaries, never turned against the Inter Services Intelligence. He still enjoys the patronage of the ISI and India would be naïve to expect any kind of cooperation from the Pakistan administration.
Saeed had reined in restless Lashkar cadres when they were itching to step up their fight in Afghanistan. Instead, Saeed had toed the ISI's line and directed his men to focus their attention and energy on planning a major attack in India.
Since Saeed and the LeT pose a threat only to India, not to either Pakistan or the US, there is nothing New Delhi can do to get access to the LeT chief.
As long as US forces maintain vigil in Afghanistan, Saeed and the LeT will stay away from taking their fight inside the restive nation, as the ISI does not want its primary henchman to meet Osama bin Laden's fate.
Now, ISI plans to ask Saeed to broker peace among the warring factions in Afghanistan.
These splinter terror groups need to join forces to keep out India, which is trying to become a major player in Afghanistan. The Pakistani spy agency believes that Saeed would be ideal for the role of a leader as he is a radical who is not swayed by sectarian differences.