Ireland's Robert Heffernan won the World championship 50km walk on Wednesday, the 35-year-old finally tasting glory after 13 years of heartbreak and near-misses.
Heffernan, fourth in the 2012 Olympic 50km and fourth in both walks at last year's European championships, broke clear of Mikhail Ryzhov after 35km to deny Russia a clean sweep of the walks after they took gold in both 20km events earlier in the week.
The Irishman, who withdrew before the 2011 race after his mother died suddenly, piled on the pressure in the latter stages, opening a 25-second gap going into the last 5km as the temperature rose following a cool start to the day and triumphed in three hours, 37. 56 minutes, the fastest time of the year.
Ryzhov took silver more than a minute behind while double Olympic silver medallist Jared Talent won bronze for Australia.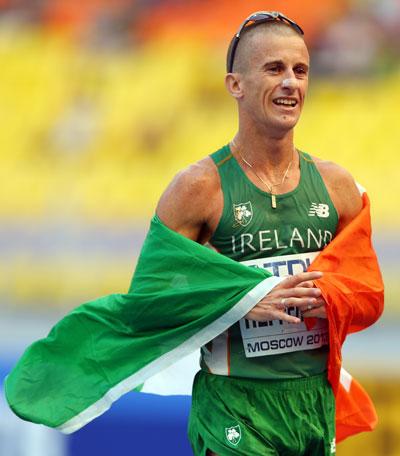 India's disappointing show continued with two of its athletes bringing up the rear in the event.
National record holder Basanta Bahadur Rana came up with his season's best effort of 3 hours 58 minutes and 20 seconds to finish 33rd while Sandeep Kumar was disqualified for rule violations on the fifth day of the mega event.
Rana's personal best and National record stands at 3:56:48s, which he attained at last year's London Olympics while finishing 36th.
The two Indians were never in contention for a medal as they were below the 30th spot in the 60-athlete field by the five-kilometre mark.
The 29-year-old Rana was at 33rd and Sandeep at 45th by the halfway mark but the latter was disqualified a few kilometers after the 35-km mark.
India is being represented by 15 athletes in the World Championships but none have come up anything creditable so far.
On Tuesday, discus thrower Vikas Gowda finished seventh while Khusbir Kaur was 39th in women's 20km walk though she created a National record in the process.
Sudha Singh failed to qualify for the women's 3000m steeplechase final after finishing 23rd overall in the heats.
In men's 20km walk, Gurmeet Singh and Chandan Singh finished 33rd and 34th respectively while National record holder K T Irfan was disqualified after being sixth at the halfway mark.
Renjith Maheswary in the men's triple jump, and the women's 4x400m relay team are the only Indian athletes left in the fray. Maheswary has a qualification round on Friday while the women's 4x400m realy heats and final will also be held the same day.
Image: Robert Heffernan of Ireland celebrates winning gold in the men's 50km walk during Day 5 of the 14th IAAF World Athletics Championships at Luzhniki stadium in Moscow.
Photo: Cameron Spencer/Getty Images