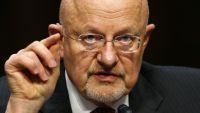 Identifying Lashkar-e-Tayiba as the most problematic of the terrorist groups inside Pakistan, a top United States intelligence official has warned that the outfit has the long-term potential to become like Hamas or Hezbollah.
"Pakistan-based LeT will continue to be the most multifaceted and problematic of the Pakistani militant groups," James Clapper, Director of National Intelligence, told lawmakers during a Congressional hearing.
"The group has the long-term potential to evolve into a permanent and even Hamas/Hezbollah-like presence in Pakistan," Clapper said in his testimony before the Senate Select Committee on Intelligence yesterday, during which he gave the intelligence community's assessment of the threat being faced by the US.
The LeT led by Hafiz Saeed has executed many terror strikes including the Mumbai attacks in 2008 that claimed 166 lives.
Observing that terrorist threats are in a transition period as the global jihadist movement becomes increasingly decentralised, Clapper said due to senior personnel losses in 2012, amplifying losses and setbacks since 2008, the core of Al Qaeda has degraded to a point that the group is probably unable to carry out complex, large-scale attacks in the West.
"However, the group has held essentially the same strategic goals since its initial public declaration of war against the US in 1996, and to the extent that the group endures, its leaders will not abandon the aspiration to attack inside the US," he said.
Clapper noted that the Arab Spring has generated a spike in threats to US interests in the region that likely will endure until political upheaval stabilises and security forces regain their capabilities.
"We also face uncertainty about potential threats from Iran and Lebanese Hezbollah, which see the US and Israel as their principal enemies," he said.
Image: James Clapper
Photograph: Reuters