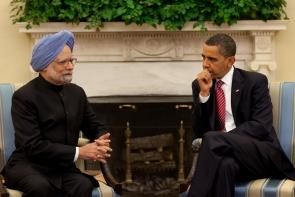 After receiving the United States backing on the issue of terrorism emanating from Pakistan, Prime Minister Manmohan Singh will meet Nawaz Sharif in New York on Sunday when he is likely to ask him to rein in terror elements operating from their soil and unleashing violence in India.
Expectations from the high-profile meeting, coming against the grim backdrop of terror attacks near Jammu on Thursday, however, will be toned down, as the prime minister himself put it in the media briefing after his talks with US President Barack Obama, "given the terror arm which is still active in our sub continent".
Dr Singh has made it clear that any progress in the bilateral dialogue will depend on action by Pakistan against terror groups operating from its soil.
Dr Singh, who arrived in New York on Friday night from Washington to attend the United Nations General Assembly, will hold his first one-on-one meeting with Sharif since the latter assumed office in June.
The two leaders are expected to discuss bilateral ties and ways to remove difficulties in normalising relations.
Sharif, who is committed to improving bilateral ties with India, on Friday said he was looking forward to the meeting with Dr Singh to make a "new beginning" and to re-engage with India in a "substantive and purposeful dialogue."
The India-Pakistan dialogue process was put on hold after an Indian soldier was beheaded on the Line of Control in January. Ties hit a new low when five more soldiers were killed by Pakistani troops along the LoC last month.
The terror attacks near Jammu, which left 10 people dead, mostly security personnel, virtually threatened to derail the New York meeting with main opposition Bharatiya Janata Party demanding the PM that his meeting with Sharif be called off.
But Dr Singh decided to go ahead with the meeting, saying such attacks will not succeed in derailing the dialogue process.
Islamabad has been pushing for the meeting in New York and has repeatedly asked Singh to visit Pakistan, where he was born. On its part, India has insisted that Pakistan must take steps to stop terrorism emanating from its soil and to prosecute those responsible for the 2008 Mumbai attacks.
Dr Singh on Friday asserted that Pakistan remains the "epicentre of terror" and said expectations over his meeting with Sharif have to be "toned down".
Obama expressed deepest sympathies for the loss of life in the twin attacks in Jammu and assured Dr Singh that he will have a "frank" conversation in this regard with Sharif when they meet here on October 23, the sources said.
Dr Singh said India faces difficult challenges and the terror sanctuaries in Pakistan needed to be dealt with effectively not only for security but also for the prospect of progress of the dialogue, they said.
The US side shared India's deep concern over the threat posed by Lashkar-e-Tayiba to India as well as the region and the world after Dr Singh told him that the terror group along with Jamaat-ud-Dawa, headed by Mumbai attack mastermind Hafiz Saeed, gets "handsome financial support" from the government of Punjab in Pakistan, the sources said.
At Sunday's meeting, the Indian side will see what the new Pakistan prime minister, who has made "some nice statements" about the relationship, has to offer to address its concerns over ceasefire violations on the Line of Control and International Border, continued terrorism and inaction against the perpetrators of the 2008 Mumbai attack.

Image: Prime Minister Manmohan Singh and US President Barack Obama hold a meeting at the Oval Office in White House