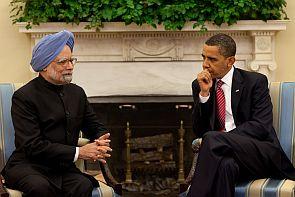 The United States has joined India in condemning the terror strike in Jammu, with the two countries vowing to consolidate their efforts to eliminate terrorist safe havens and calling on Pakistan to bring to justice the perpetrators of the 2008 Mumbai attack.
"They reiterated their condemnation of terrorism in all its forms, and reaffirmed their commitment to eliminating terrorist safe havens and infrastructure, and disrupting terrorist networks, including Al Qaeda and the Lashkar-e-Tayiba," said a joint India-US statement issued after Prime Minister Manmohan Singh met US President Barack Obama inside the Oval Office.
Obama and Singh "strongly condemned" the September 26 terrorist attack in Samba in Jammu and Kashmir, the joint statement said, indicating that terrorism in the region figured prominently in the talks between the two leaders at the White House which lasted for over an hour.
Following the meeting, Obama hosted Dr Singh for lunch.
Before the meeting, Indian officials had told media persons that the issue of LeT and its founder Hafeez Saeed was to figure prominently during the talks.
In their joint statement, the two leaders called for expanding security cooperation between the United States and India to address 21st century challenges in the areas of counter-terrorism, cyber, space, and global health security.
Affirming their deep concern over the continuing threat posed by terrorism, Obama and Dr Singh stressed the need for joint and concerted effort, including dismantling of terrorist safe havens, and disrupting all financial and tactical support for terrorism.
They decided to significantly expand information sharing and intelligence cooperation to address threats to their respective nations, including strengthening the bilateral relationship to exchange information on known and suspected terrorists.
Obama and Dr Singh emphasised the importance of expanding homeland security cooperation to enhance exchanges on megacity policing strategies, securing the global supply chain and anti-counterfeiting efforts.
India welcomed the US offer of membership in the American 'Global Entry' Trusted Traveler Network Programme to facilitate expedited entry of Indian travellers to the United States.