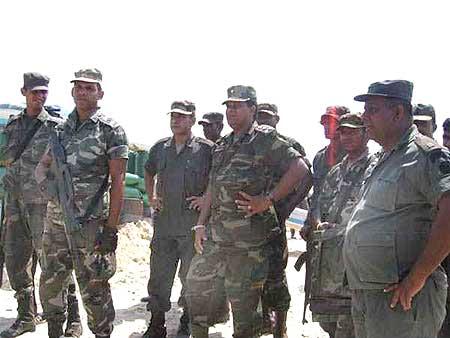 Notwithstanding stiff opposition from political parties in Tamil Nadu, Sri Lanka on Wednesday asserted that it was 'very firm' on continuing the training programme of its defence personnel in India and ruled out sending them to countries such as China.
Sri Lanka's powerful Economic Development Minister Basil Rajapaksa, also the brother of President Mahinda Rajapaksa, said his country looks at India in a 'much bigger way' than China.
During an interaction with visiting Indian journalists, Rajapaksa admitted that the recent attacks against Sri Lankan citizens in Tamil Nadu has 'hurt' their feelings, but said no one in his country had any 'hard feelings' for India or its people.
"No. We have never (thought about it) because in our long history since the days when we moved from British shoulders all training (to army personnel) were done in India or in Pakistan," he said.
The minister was responding to a question whether Sri Lanka was reconsidering the training programme for its military personnel in India and possibly get them trained in countries such as China in the wake of protests in Tamil Nadu.
Dwelling on the issue, he said it has been the practice for any new batch to be sent to India for training and that Sri Lanka has no plans to change the tradition.
"There can be various opinions, but we can't (shift the programme). We are very firm on that and we have confidence (that it will continue). We have not even thought about," he said when pressed further on whether Sri Lanka would stop sending its personnel to India.
He noted that starting from the defence secretary to army commanders, everyone has been trained in India. "Everyone go to India first and only then they are sent to other countries such as the United States (for training)," he said.