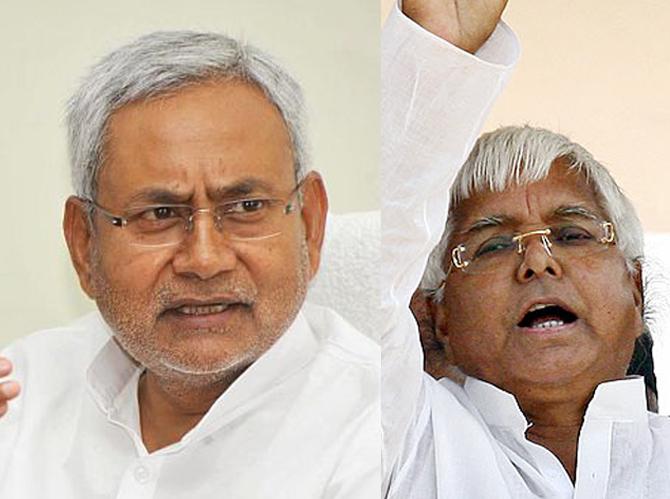 It's official now. After a gap of 23 years, Rashtriya Janata Dal chief Lalu Prasad Yadav and senior Janata Dal-United leader Nitish Kumar will share dais and jointly address public meetings on Monday for by polls in Bihar's Hajipur and Mohiuddinnagar assembly constituencies.

"Lalu and Nitish will jointly campaign from Monday for the by-election in 10 assembly constituencies in the state," JD-U state president Vashisht Narain Singh told the media on Sunday.

The news was also confirmed by JD state president Ram Chandra Purve.

The two former Bihar chief ministers are widely described as "friends-turned-foes-turned-friends" in Bihar political circles.

According to political watchers in Patna, it was possibly during 1991 Lok Sabha polls that Lalu, the then chief minister, and Nitish were last seen together in election campaign.
Incidentally, Nitish, who had contested from Barh, had lost. The two parted ways in 1993, and Nitish floated the Samata Party in 1994.

Bihar's ruling JD-U's new allies RJD and Congress are together contesting by-elections to defeat Bharatiya Janata Party.

The JD-U, RJD and Congress alliance was formally announced on July 30.

JD-U and RJD leaders said the alliance was vital for strengthening secular forces and defeating communal parties in the state.

The JD-U and RJD, which parted ways in 1994, came together after the BJP swept the Lok Sabha polls in Bihar.

Nitish Kumar had ended his party's 17-years-old alliance with the BJP in June 2013 over rise of then Gujarat chief minister Narendra Modi in the saffron party.

Upbeat after an alliance of RJD, JD-U and Congress in Bihar, Lalu had said he would also try and bring Samajwadi Party chief Mulayam Singh Yadav and Bahujan Samaj Party supremo Mayawati to one platform.