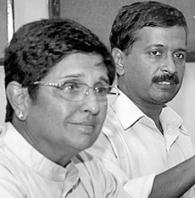 Criticising Delhi Chief Minister Arvind Kejriwal for organising a 'janta darbar' which ended in chaos on Saturday, former Team Anna member Kiran Bedi took a jibe at him over the lack of "mature" governance and said such meetings do not happen on the streets or the rooftops.
"All good governance organises public hearing. Many senior police officers and bureaucrats have public hearings. There is a schedule and method and certainly openness about it. It is not on the streets or on the rooftops.
"It is organised in their offices. So, public hearings are part of good governance but there is a method to it, there is a purpose and there is a place for it. Therefore, I think that is all about mature governance, it is also about experienced governance, that is what I think is lacking," she said.
A former police officer, Bedi had worked with Kejriwal and was part of Team Anna during the Jan Lokpal movement in 2011, but the two later drifted apart.
Bedi also took to micro-blogging site Twitter as soon of the news about chaos at the 'janta darbar' broke.
"For God's sake, Arvind and Team, Secretariats are not run from rooftops! Please take time to listen/absorb! And then take considered decisions," she said.
The AAP government's much-talked-about first 'janta darbar' outside the Delhi Secretariat on Saturday witnessed chaos and mismanagement, forcing Kejriwal to leave the venue midway, as hundreds jostled with each other to register their grievances.
Kejriwal later admitted that if he had not left the meeting midway, there could have been a stampede. He also promised to streamline the system so that a similar situation does not recur.