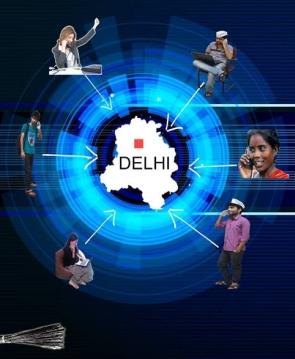 Delhi Chief Minister Arvind Kerjriwal on Saturday rejected criticism of his 'janta darbar' and said though the exercise had turned chaotic due to "mismanagement", the party had learnt its lesson.
The CM, who had to leave the venue of the public hearing midway as hundreds jostled with each other to register their grievances, said that he had not expected the massive turnout, which reflected the "faith" of the people in his government.
Kejriwal said he had left the venue to avoid a stampede-like situation.
He admitted to the 'mismanagement' and claimed that he has apologised to the people and collected complaint letters from them.
"If listening to people's grievances this way is anarchy, then I think we have forgotten the meaning of democracy. We have become used to decisions being taken behind closed doors," he said while reacting to allegations made by opposition parties about anarchy prevailing at the venue today.
"I agree that there were loopholes in the crowd management. I have apologised to the public," he said.
He said that the public hearing, which was to be held by each of the six ministers on week days and by the entire Cabinet on Saturday outside the Delhi Secretariat building, has been suspended for the next three-four days.
"Next time, we will hold a public hearing at a stadium or a bigger place and we will put all the proper arrangements in place," Kejriwal told reporters.
"We had made arrangement for just 700 to 1000 people, but more than 7,000 people came. We were not expecting such a huge crowd," he said.
"We want to go to public to listen to their problems. Our government wants to work for the people. When we sat on the road today, we came to know how many people want to meet us," Kejriwal said.
Responding to an accusation by the Bharatiya Janata Party -- that he was taking decisions in a hurry -- Kejriwal said, "Yes we are in hurry. If people do not take steps at the earliest, then this country will not survive."
Kejriwal said he has received some "good suggestions" and would review them with senior officials before implementing them.
When pointed out that there were never reports of mismanagement at such hearings by Samajwadi Party supremo Mulayam Singh Yadav or Bihar Chief Minister Nitish Kumar,
Kejriwal said, "It is a question of faith. Not as many people turn up in those meetings. Those people who turned up today had faith that there problems will be resolved."
Kejriwal said his government is taking stock of all the complaints and will try to resolve them accordingly.
"We have divided grievances into five categories. We will try to resolve plain complaints related to ration cards and government schemes not reaching the people within 7-10 days.
Those cases which require a change in a policy cannot be resolved in a day or two and a time limit will be set for them," he said.
The next category is not complaints, but suggestions. Another is miscellaneous category and the last is for those which are not related to the government, he added.
Kejriwal said that 90 per cent of the crowd at today's hearing comprised contractual workers.
"I am writing to every department asking them why contractual workers cannot be made permanent," Kejriwal said.
Image Courtesy: https://www.facebook.com/AAPkaArvind