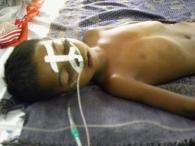 Last year, the horror of encephalitis had claimed the lives of over 240 children in Bihar.
This year, the disease that targets children has already killed 33 of them, while a dozen more are fighting for their lives in various hospitals in Muzaffarpur, the worst affected district in the state.
"Thirteen more children have succumbed to encephalitis in Muzaffarpur in the last four days, including three in the last 24 hours, taking the total number of deaths in the state since early May to 33," said an official in the state health department.
"The condition of some of these children remains critical. Some others are showing signs of improvement," said Gayan Bhushan, a Muzaffarpur-based civil surgeon.
Alarmed by the number of children succumbing to encephalitis, Principal Secretary of Health Department Vayasji visited Muzaffarpur recently and directed concerned officials to provide proper treatment and take preventive measures.
Bihar Health Minister Ashwani Kumar Choubey has also visited Muzaffarpur.
Most of the victims belong to impoverished families which cannot afford basic amenities like safe drinking water and clean food.
According to health experts, most of the children are suffering from Acute Encephalitis Syndrome, an extremely serious form of the disease.
AES is characterised by inflammation of the brain and sudden onset of fever, seizures and a sense of disorientation.