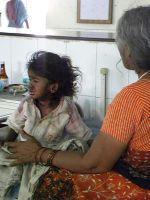 The dreaded encephalitis, a mosquito-borne disease, claimed has claimed the lives of over 20 children in Bihar, health officials have said.
Two-year-old Anuradha Kumari and 11-year-old Chandini Kumari died of the disease in Bihar's Muzaffarpur district in last 24 hours, taking the toll from the deadly disease to 20 in the state in last one month. More than a dozen have been admitted to hospitals in Muzaffarpur and other district headquarters, officials on Thursday said.
"Both Anuradha and Chandini died of suspected Acute Encephalitis Syndrome," a district health official said. Two days ago, five-year-old Kavita Kumari and two-year-old Sonu Kumari died due to AES, hours after they were admitted at the hospital in Muzaffarpur.
Earlier this week, four children died of suspected AES at the Sri Krishna Medical College and Hospital and Kejriwal Hospital in Muzaffarpur, about 70 km from Patna. Alarmed by the number of children dying of AES in Muzaffarpur, a team of experts from the National Centre for Disease Control and CDS have arrived in Muzaffarpur on Wednesday to identify the cause of the AES.
"The team has begun study to identify the cause," B N Jha, a district health official said.
Most of the victims of AES belong to poorest of the poor families, who are living without basic facilities such as safe drinking water, shelter and food.
According to health experts, AES is a severe case of encephalitis characterised by inflammation of the brain. The effect on the patient's central nervous system results in fever and/or sudden onset of mental symptoms such as seizures, confusion, disorientation, etc.
It can be caused due to bacterial or viral infections of the brain, toxic substances or increased complications of an infectious disease.