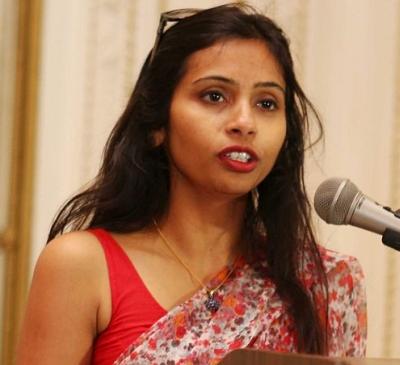 Upset over the Devyani Khobragade episode, India on Wednesday raised with the United States its concerns over "trafficking" visas issued to family members of Sangita Richard, the absconding maid of the Indian diplomat whose arrest had triggered a row between the two countries.
The concerns were conveyed by External Affairs Minister Salman Khurshid to his American counterpart John Kerry during nearly a half-an-hour-long meeting on the sidelines of Geneva II talks on Syria in the Swiss resort city of Montreux.
Khurshid and Kerry recognised the need to put in place institutional arrangements to look at all outstanding issues relating to the privileges and immunities of diplomats of both countries so that such issues could be resolved in a timely manner, the external affairs ministry said in a release after the meeting.
A 1999 batch Indian Foreign Service officer, Khobragade was arrested on December 12 and subsequently strip-searched before she was released on a bail of $250,000, evoking a sharp reaction by the government in New Delhi which withdrew extra privileges enjoyed by the US diplomats posted in India.
India was also upset over visas issued by the US embassy to the three family members -- husband and two children of Richard, saying that American diplomatic mission facilitated the illegal immigration of the family to the US.
Richard's family flew to New York on December 10, two days ahead of Khobragade's arrest in New York, on the air tickets provided by the US embassy's official travel agency.
The release said in view of the recent episode involving Khobragade's arrest, Khurshid "underlined India's concern over trafficking visas issued to Indian nationals by the US embassy in India."
The two ministers also reviewed recent developments in India-US relations.
Khurshid and Kerry agreed that the bilateral relationship was very important for both countries, the ministry said.
Both sides looked forward to the early realisation of the mutually agreed calendar of bilateral exchanges, including the visit of US Energy Secretary Moniz for the India-US Energy dialogue and the visit of the Commissioner of the US Food and Drug Administration, Margaret Hamburg, it said.
Mention was also made of ongoing defence cooperation between India and the US. The two leaders agreed to remain in contact to follow up on the progress on these issues, it said.

Image: Indian diplomat Devyani Khobragade