'Devyani is composed, cheerful and happy'
'She will be in India on Friday night. She is on her way back.'
'I am in touch with her on an hourly basis before and after the (US court's) verdict.'

Hours after the Indian diplomat is indicted for visa fraud and making false statements by a New York court grand jury, her father Uttam Khobragade talks to rediff.com's Prasanna D Zore.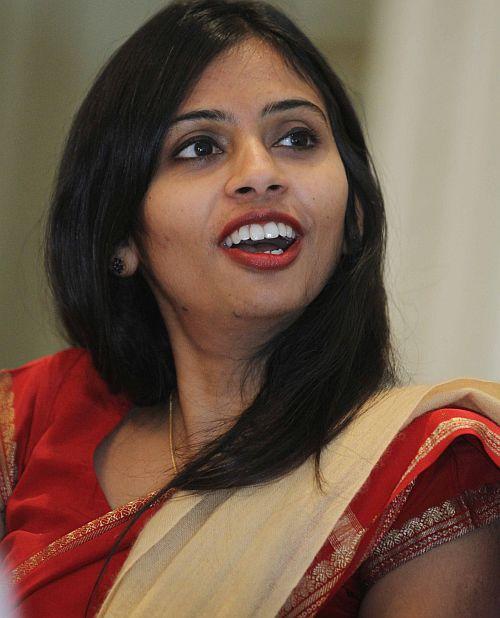 The Khobragade family is relieved that their daughter will be back in India on Friday night and believes that the US grand jury verdict that indicts her on charges of visa fraud and submission of false documents is meaningless because it is based on false charges.
Speaking with rediff.com, Khobragade said that from day one of her arrest the US authorities showed their malicious intent.
"They wanted her to arrest by hook or crook," he said.
"What was the need to prepone (advance) the verdict when it was originally scheduled for hearing on January 14?" he asked, once again maintaining that the entire episode was based on malice.
When asked to comment on US Attorney Preet Bharara's statement that Devyani is still in the US, as against news reports claiming that she is on her way to India, Khobragade said: "I don't want to talk much about that man; I don't know to what extent we should believe that man."
Khobragade maintained that Bharara had malicious intent and that Devyani was not allowed to show her diplomatic immunity documents to the officers who arrested her.
"They did not give her a chance to show her diplomatic immunity before her arrest. At the time of her arrest she told the authorities that she had diplomatic immunity but they still went ahead with her arrest."
Claiming that India's position had been vindicated in the case, Khobragade said: "Her diplomatic accreditation to the United Nations is proof that she has diplomatic immunity. Indictment on false charges has no meaning. Even Parliament has seen the papers."
"The whole world knows that the charges were fabricated. The events that followed her arrest have demonstrated that to the people and Parliament of India. The US court's indictment was made on false charges and does not make any sense to us," said Khobragade.
Reacting to the verdict that the US will proceed with the charges against Devyani if she comes to the US without any diplomatic immunity Khobragade said, "Definitely we will take appropriate action. The government of India will take the case forward."