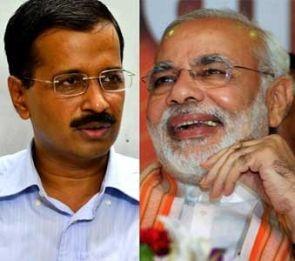 Aam Aadmi Party leader Arvind Kejriwal on Thursday clarified that he had "never ever" said he would prefer Narendra Modi over Bahujan Samaj Party chief Mayawati for the prime minister's post.
"TV channels pe chal raha hai -- Kejriwal ne kaha ki Modi aur Mayawati ke beech main Modi ko prefer karunga (TV channels are saying that 'Kejriwal said he would prefer Modi if he had to choose between the BJP leader and Mayawati'). I never ever said that," Kejriwal wrote in a post on Twitter.
The tweet was in response to a media report which claimed that if someone were to hold a gun to his head and ask him to choose between Modi and Mayawati, Kejriwal would choose the former.
The AAP leader is presently in Maharashtra to campaign for the party ahead of the Lok Sabha elections.
After his resignation as the chief minister of Delhi, Kejriwal and his party have launched scathing attacks on BJP's prime ministerial candidate Modi and his "development model" in Gujarat.
Along with party leaders, he completed a tour of Gujarat with the stated objective of "verifying Modi's claims".
Image: AAP leader Arvind Kejriwal and BJP leader Narendra Modi