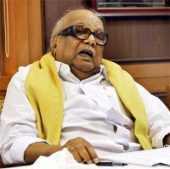 Dravida Munnetra Kazhagam chief M Karunanidhi on Thursday justified his party's decision to withdraw support to the United Progressive Alliance government on Sri Lankan Tamil issue but refused to term the Centre's stand as a "betrayal".
"By looking at the present developments, I consider we have taken the right decision (withdrawal of support to UPA). I will not call it as a betrayal. (But) They were not concerned," he told reporters, hours after the resolution was adopted by 25-13 margin at the United Nations Human Rights Council.
Noting that he was "not satisfied" with India's stand at the UNHRC. Karunanidhi said a myth was created about the US resolution that something big will come out and there was a lot of anticipation among the people and students. They were hoping that the US resolution would protect Tamils but it turned out to be a "diluted" resolution and had become 'useless'.
Asked about his party's further course of action on the issue, Karunanidhi said Tamil Eelam Supporters Organisation revived by him recently, will decide.
To a question, whether his party would support a parliamentary resolution incorporating the amendments suggested by him, he said, "Now there was no room for such a thing."
Karunanidhi said his party described the United States resolution as "diluted" as whatever amendments suggested by him were not incorporated.
Referring to India's permanent representative Dilip Sinha's statement that India would encourage Sri Lanka to take steps on the rehabilitation and political settlement, Karunanidhi said this amounted to handing over the issue of Eelam Tamils to the island nation.