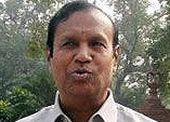 Expressing 'surprise' over India supporting a 'weak' and 'diluted' United States resolution against Sri Lanka at the United Nations Human Rights Council, former United Progressive Alliance ally Dravida Munnetra Kazhagam on Thursday said New Delhi had by its action "totally disappointed" the entire Tamil diaspora.
DMK Parliamentary Party Leader TR Baalu told PTI that they had wanted India to propose amendments in order to declare that Sri Lanka had committed "genocide, human rights violations and war crimes".
"We (also) wanted to have amendments for independent, credible, international inquiry into war crimes and human rights violations committed by Sri Lanka. But to our surprise, government of India has simply supported a diluted and a weak resolution," he said.
India had not even tried to propose any amendments to the US-backed resolution which was adopted by 25-13 margin with eight abstentions, he said.
"Government of India has totally disappointed not only the eight crore Tamil population but the entire Tamil diaspora," Baalu added.
Image: DMK leader T R Baalu