The Karnataka Janatha Party's strategy to divide constituencies into two categories could split the vote share of the BJP and Congress, reports Vicky Nanjappa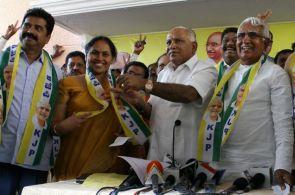 B S Yeddyurappa's Karnataka Janatha Party will be keenly observed during the Karnataka polls. While Yeddyurappa feels that he will win 43 seats, poll pundits give him anything between 5 and 10 seats in the May 3 elections.
Victorious or not, Yeddyurappa is sure to make a difference in some constituencies. He could win some of these constituencies or split the votes, especially of the Bharatiya Janata Party.
Yeddyurappa before entering into the fray had made an analysis of all the constituencies dividing them into A and B categories.
The KJP's analysis is interesting as it targets only those constituencies where the BJP is strong. It has fielded candidates who were once part of the BJP.
At least 90 per cent of the constituencies that the KJP has chalked out are in northern Karnataka. It is evident that Yeddyurappa who still considers himself as the undisputed leader of the Lingayats has targeted north Karnataka since the region has a large population of people from this community.
A KJP worker points out that they may not win 43 seats, but they are very confident of winning 20 seats at least. If Yeddyurappa does manage to win 20 seats then there is no doubt that he would become kingmaker.
Observers, which gave the Congress 90 seats, feel that this figure could fall after the infighting in the party.
The following are the constituencies Yeddyurappa is targeting and has put in all his resources; Shikaripura, Aland, Chincholi, Bhatkal, Byadgi, Haveri, Hanagal, Bidar North, Tiptur, Belgaum, Rajajinagar, Kundgol, Gadag, Basavakalayana, Aurad, Bidar, Nagatana, Indi, Sindagi, Tarikere, Honnali, Yeshwanthpur and Magadi.
These are the constituencies which the KJP has placed in category A. The party claims it is confident of winning all seats.
In the B category, the party is hopeful of majorly splitting both the Congress and the BJP votes. The constituencies under the B Category are; Magadi, Sedam, Gulbarga South, Chennageri, Varuna and Hukkeri and constituencies where Congress has an upper hand.
Also Read: Battleground Karnataka