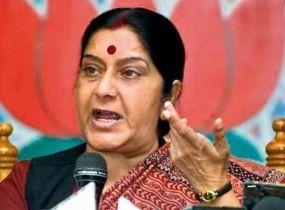 Sushma Swaraj, Leader of the Opposition in Lok Sabha and senior Bharatiya Janata Party, on Sunday kickstarted her Karnataka election campaign in Bengaluru.

Addressing the gathering at the Malleshwaram grounds in Bengaluru, Sushma said she was proud of the work that her party had done in the state.

'The BJP government in Karnataka has worked hard for you,' she said, leaving out the three-year-tenure of B S Yeddyurappa.

'There was a lot of fighting at first, I agree. That hurt us to no end. We tried a lot to solve the problem. But at the end of it those who fought have left the party,' she said.
Hitting out at Yeddyurappa's new party, the Karnataka Janatha Paksha, she said that the party cannot form the government in Karnataka.

She asked her party leaders, "Why would any of you want to join the KJP? It is too small. Leave alone forming a government, it cannot even support anyone in government formation."

"The Janata Dal-Secular, on the other hand, helps the Congress at the Centre. Let us not forget that they stabbed us in the back five years back. Why would anyone want to vote for the Congress? They are corrupt, cannot tackle terrorism and have not given good governance since the past nine years. Would you want such a government in Karnataka also? The Congress has been breaking records in scams -- the 2G, coal scams to name a few."

"On the issue of terrorism, Congress has been soft. How many times do we tell them not to speak to Pakistan until they hand over all India-wanted terrorists? Our soldiers are attacked by Pakistanis and we still want to talk to them. What has the Congress done to prevent crimes? Look at Delhi. No woman is safe. The Congress says let us talk. What is there to talk, they need to act," she said.