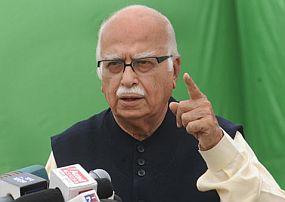 The exit of former chief minister B S Yeddyurappa has boosted Bharatiya Janata Party's chances in Karnataka assembly elections, veteran party leader L K Advani said on Sunday.

Addressing a campaign rally in Hubli, Advani asserted that he could confidently proclaim that the BJP has provided very good administration in Karnataka.
He, however, quickly added that the administration had been good only in the past two years, after the exit of Yeddyurappa.
Stating that the BJP will return to power in Karnataka once again, the veteran leader dismissed speculations on the party losing the election after Yeddyurappa's exit as rubbish


'There is no impact. We have gained (from Yeddurappa's exit) and we can confidently seek votes,' he said.

Advani was critical of the United Progressive Alliance's rule.

He termed it as the most corrupt government since independence and said that the people were tired of it.

He expressed confidence that the people would vote the Congress out of power and bring the BJP to power.
On the issue of NDA's prime ministerial candidate, Advani said there are no differences in the National Democratic Alliance.

He, however, did not comment when asked by reporters if Gujarat Chief Minister Narendra Modi was the consensus candidate.


Earlier, there was a minor hiccup for Advani when he came to address a rally at Haveri, Ranebennur.

The chopper carrying the senior BJP leader was found circulating in the air as the pilot did not find a suitable place to land. Although nothing serious has been found, it is said that the chopper made seven rounds before it could land.