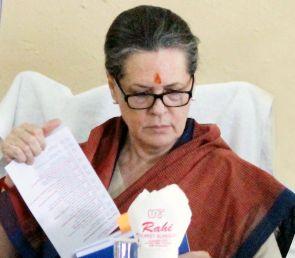 Congress President Sonia Gandhi on Saturday made a strong pitch for "change" in Karnataka as it was passing through "some of the darkest days".

Addressing her first election rally in the poll-bound state at Chickmagalur, Sonia said: "I remind the young generation that these are some of the darkest days. People want change. The need for change is now, and now."
"The BJP has completely ignored your mandate, they have completely betrayed the mandate of the people of Karnataka", she charged, as she attacked the government on various fronts, including the "breakdown" of the law and order.

On illegal mining scam in Karnataka, she said the mining mafia has destroyed environment, and charged the BJP government with serving only its "narrow and selfish political ends".
She said there was a time when industries competed with one another to invest in Karnataka but the situation now is "opposite". Now the industries are leaving Karnataka because of corruption, government interference and infrastructure issues, she said.