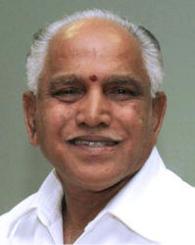 Five years after he brought the Bharatiya Janata Party to power in Karnataka, former chief minister and Karnataka Janatha Party leader B S Yeddyurappa is today on a mission to wipe out his former party.
In a brief interaction with rediff.com's Vicky Nanjappa, Yeddyurappa spells out his political plans after the assembly election on May 5.
"My party has changed but I have not. I am still a humble man, a farmer and I will continue to strive for the poor. The people have begun to realise the importance of the Karnataka Janatha Party and they will support it.
I have realised that there is a need for a regional party in Karnataka since it will focus only on the people of the state, unlike the national parties.
The KJP is in a straight battle with the Congress. They are our only competitors. I would not say that the BJP is in the running and hence have not listed them as competition.
The BJP is a ship that is sinking and you will see for yourself how badly they perform in the elections. I will not give them more that 40 seats this time. They will realise this time what they are without Yeddyurappa.
Do not ask me about political tie-ups. I have not decided anything. All that will be decided after May 5. I can say with certainty that I will never join hands with the BJP.
No party will have a majority this time. The Congress will not get majority due to so much infighting and dissidence. We will get over 40 seats this time and will be in the reckoning to form the government in Karnataka.
I am confident that I will make the KJP a major party. I have slogged it out for four decades with the BJP and brought it to power in Karnataka.
I am nearly 70 years old, but I still have determination. With the love of the people, I am sure I will emerge victorious".