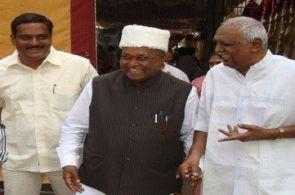 The Bharatiya Janata Party has kept away their sure shot winning candidate Katta Subramanya Naidu out of the poll fray this time around due to corruption charges. The Hebbal assembly constituency will be watched closely as it does not have the popular Naidu contesting on a BJP ticket. However, Naidu is running a proxy campaign for the candidate he has chosen -- Jagadish Kumar.
Hebbal is a high profile constituency and houses a cream of Bangalore. The people of the constituency had backed their MLA Naidu all these years. They love it when he comes out to campaign and are not bothered about the various charges of corruption against him.
"Katta Naidu has done good for the constituency and that matters. He will come out clean and we blame his family members for his fall," a voter in Hebbal says.
A change in candidate may not have been the best thing for the ruling BJP. Naidu would have won in his own capacity, but with Jagadish Kumar the same cannot be said.
Jagadish is backed by several senior leaders in the BJP who are campaigning extensively for him.
Hebbal would, however, see an interesting battle. It is a three way fight and could go to any one of the parties. The BJP will be up against Rehman Sharrief, the grandson of former Railway Minister C K Jaffer Sharrief.
While the BJP's problem is a relatively new candidate, the Congress faces a split campaign. There is a lot of dissidence ever since H M Revanna, who lost to Katta last time, was denied a ticket. Revanna has a good clout in the constituency and the denial of a ticket has kept him away from the campaign.
The Janata Dal-Secular has fielded former super cop, Abdul Azeem. The candidature of both Azeem and Sharrief is a clear indication that both these parties are targeting the minority votes. There are 90,000 Muslim votes and it is clear that it would be split between the JD-S and the Congress.

The BJP does realise that the minority votes would count. However, they are banking on the votes splitting so that they would benefit. The BJP is also banking heavily on the dissidence in the Congress.
The problems of the Congress have no end over here. Just two days back, nine workers joined the Congress on the pretext that Revanna was denied a ticket.
As of now it looks advantage BJP.
The Congress feels that the anti-BJP wave would work for them.
The JD-S, however, feels that the candidature of Azeem will take them through. As Azeem puts it, "My opponents are no match for me".
Image: Katta Subramanya Naidu (centre) gestures during a public gathering.