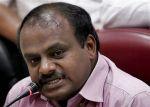 The Janata Dal-Secular has put out its first list of candidates for the Karnataka elections 2013. Significantly, the list has three former cops on it.
Abdul Azeem, Subhash Bharani and Narayan Gowda who have held top posts in the Karnataka police department will fight the elections on a JD-S ticket.


Abdul Azeem will fight from Hebbal, Bharani from Gandhi Nagar and Narayan Gowda from Chikpet. All constituencies are in Bangalore.


Party chief H D Kumaraswamy will hold on to the Ramnagar constituency while his wife Anita will contest from the neighbouring Channapatna constituency.


Although it was largely expected that the JD-S would field a majority of Vokkaligas, as it is their primary vote base, the first list only has 26 such candidates.


The list sees 16 Lingayat candidates and 10 Muslim candidates while the rest have been divided between SC/ST, OBC, Kurubas and Brahmins.