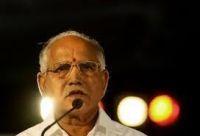 B S Yeddyurappa has loaned Rs 17 lakh to his son B Y Ragavendra, who until recently was a Member of Parliament from the Bharatiya Janata Party. As per Yeddyurappa's affidavit which was filed along with his nomination papers, he is worth Rs 5.97 crore which means his assets have increased five fold since 2008 when his value was Rs 1.82 crore. Interestingly Yeddyurappa has also taken a loan of Rs 27 lakh from his three other children.
Yeddyurappa, who after quitting the BJP floated his own political unit the Karnataka Janatha Party, says in his declaration that he has movable properties worth Rs 1.64 crore. He also states that he has gold worth Rs 60.73 lakh and silver worth Rs 37.31 lakh. He also declares that he has a car worth rs 25.13 lakh.
His immovable assets account to Rs 4.19 crore which includes 13 acres of land in Shikaripur. Further he has non agriculture land in Shikaripur and Bangalore worth Rs 1.97 crore. A house in Bangalore worth Rs 2 crore, a house and a commercial complex in Shikaripura worth Rs 3.36 lakh and Rs 19.17 lakh.
He also states that he has taken a loan of Rs 12 lakh from his daughter Padmavathi and Rs 5 lakh loan from his other daughter Umadevi. He also has taken a loan of Rs 10 lakh from his other son Vijayendra. There are also bank loans of Rs 48.80 lakh.