There is infighting among Rajasthan Congress leaders and I do not respect them. They are fake leaders, Bhanwar Lal Sharma tells Rediff.com contributor Shahnawaz Aakhtar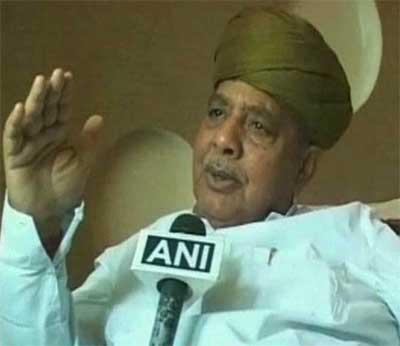 Former Congress leader Bhanwar Lal Sharma, who is known for not mincing words, has hit out at the party following his suspension.
The rebel Congress leader, who has been a six time MLA from Sardarshahar constituency, found his suspension letter on returning to Delhi. Sharma has been vocal about the Congress party's leadership crisis.
"I was in Delhi, when I heard about my suspension. After reaching home I found the letter from the Rajasthan State Congress Committee. But the state leaders cannot suspend me as I am a member of the All India Congress Committee," said Sharma over the phone.
"It is the decision of the jokers who are part of Rahul's (Gandhi) team. I don't think Sonia Gandhi would have an idea about it. Such actions are unfortunate in the Congress party," he said.
When asked what his next step would be, he said, "You should know that in the Quran and Geeta it is mentioned that ones action should not be revealed even five minutes before it is taken. So I will speak at the appropriate time about my next move."
The 74-year-old leader is known to be part of the 'pressure group' in Rajasthan politics. Sources said that in 1996-97, when Sharma was an independent MLA, he had criticised the then chief minister Bhairon Singh Shekhawat, when he was undergoing a treatment in a foreign country. He had even tried to topple Shekhwat's government. But the Congress had not supported him and the BJP government survived.
"His relationship with the Rajasthan state Congress has also never been good. He has been a politician who always sets himself high in politics with his statements," said Narayan Bareth, a political analyst.
When state Congress president Sachin Pilot claimed that Sharma made critical comments about the party because he had wanted a ticket for his son, Sharma never denied the charge.
"Sachin can get the ticket for being the son of Rajesh Pilot but others cannot. If my son is in politics for the past 15 years then why can't I seek a ticket for him? But yes, if he would have got the party symbol then the stature of Sachin Pilot and CP Joshi would have been reduced, so they did not give him a ticket," Sharma said.
Responding to question on whether his outspoken nature cost him a minister's seat in the Ashok Gehlot government, he said, "Gehlot has been one of the leaders in Rajasthan who preferred to have his breed of sycophants around him. Barring god and the people of my constituency, I fear no one, so I was vocal about my opinion on Gehlot," he said.
"There is infighting among state Congress leaders and I do not respect them because they are fake leaders," added Sharma.