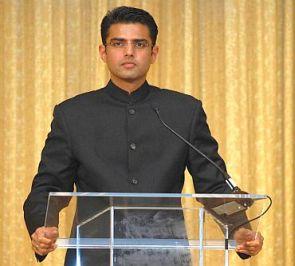 Union Minister and State President of the Congress party Sachin Pilot is the top performing Member of Parliament among the 25 MPs of Rajasthan.
A survey by the Association of Democratic Reforms gave 8 out of 10 points placing Pilot in the above average category. Another Congress MP Dr Jyoti Mirdha from Nagaur, who secured 7.40 points, was also put in the above average category.
Gopal Singh, also from the Congress, is places at number 3 with 7.15 points.
Among the nine, only Dushyant Singh, son of chief minister Vasundhara Raje, from the BJP is on the list.
While Congress MP Sachin Pilot topped the chart in performance, another Congress MP Bharat Ram Meghwal was at the bottom of the list with 4.20 points.
Out of 25 MPs from Rajasthan, only 9 MPs have exceeded the expectations of the people.
In the 15th Lok Sabha, Congress has 20 MPs from Rajasthan while the BJP has 4 and one independent.
The survey also found that it is not the party but the candidate that matters most for the voters of the desert state. The PM candidate of the party, caste, religion of the candidate were the 3rd and 4th most important factors which voters consider before voting.
As far as issues are concerned -- people want better roads, better employment opportunities and drinking.
In another important issue, it was observed that nearly 81 per cent of people in Rajasthan are aware that distribution of gifts and money by candidates ahead of elections is illegal.
However, only 34 per cent of people know that they can get information about the charges against their candidates.
Over 71 per cent people in Rajasthan ignore charges against their candidates because they feel such candidates have done "good work". Around 45 per cent of people in Rajasthan vote for candidates facing charges because they are of their own caste or religion.
Image: Union Minister and State President of the Congress party Sachin Pilot