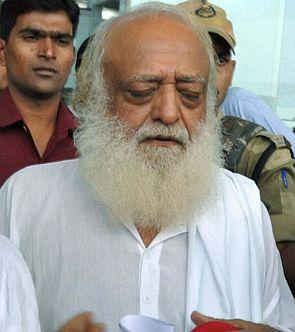 The case against self-styled godman Asaram Bapu, arrested for allegedly sexually assaulting a 16-year-old girl at his ashram, is "very strong" and the investigation is moving in the right direction, Jodhpur Police said on Monday.
"Our case is very strong and moving in the right direction. More time would be required to complete the probe, and it would be decided at the time of producing Asaram whether to seek more time for police custody or judicial custody", Jodhpur DPC Ajay Pal Lamba told media persons in Jodhpur.
72-year-old Asaram was on Sunday remanded to police custody for a day after being grilled by Jodhpur Police for about four hours.
Asked about reports that Asaram was suffering from a neuro disorder, the DCP said, "It has been proved to be a lie. His son can say what he wants to say. We can't comment on anybody's statement".

"A team of doctors said he is perfectly OK. He is mentally and physically fit," Lamba said, adding he will be soon produced before court to seek more time for investigation.
"The accused is also taking food whenever served", the DCP said.
Asaram had yesterday cleared a potency test conducted on him at the SN Medical college here.He was also taken to his Manai Ashram, about 30 km from Jodhpur, where the girl was allegedly sexually assaulted.

Police had conducted a physical verification and tried to create the scene of crime.
Asaram has denied sexual assault charges lodged against him by the schoolgirl.
His arrest followed an FIR filed by the girl alleging she was sexually assaulted by Asaram at his ashram in this Rajasthan city.