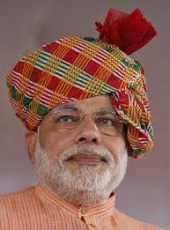 The Janata Dal-United on Friday took a jibe at Gujarat Chief Minister Narendra Modi for his remarks that it is the duty of every child to repay the debt he owes to 'Mother India' and said when a politician comments like this, it reflects his "desire" for the Delhi crown.
"Let us see that whom does Delhi prefer after 2014 Lok Sabha elections. The country can be served even by serving Gujarat. Nitish Kumar is serving Bihar. In a way he is also serving the nation.
"Modi is already serving the nation as the chief minister of Gujarat. But when some politician says such things, it reflects the latent desire in his heart for the Delhi crown," JD-U General Secretary Shivanand Tewari said when asked about the Gujarat chief minister's remarks on Thursday.
He said that a number of people want to become the prime minister of the country "especially those who have some power in politics. All are hopeful. Mulayam Singh Yadav has also expressed his desire for it."
Virtually acknowledging his prime ministerial ambition, Modi had on Thursday said it is the duty of every child to repay the debt he owes to "Mother India".
"Not only Modi, every child and citizen owes a debt to Mother India...it is his duty to repay the debt whenever an opportunity arises...Everybody has to repay this debt... I hope Mother India gives her blessings and nobody goes away without paying this debt," Modi said, in clearest indication yet that he is ready for a major role in the national political arena in the 2014 general elections, as being demanded by many in the Bharatiya Janata Party.
Maintaining his party's stand that the National Democratic Alliance's prime ministerial candidate should be a person of secular background and acceptable to all sections of the society, he said the exercise to select NDA's prime ministerial candidate was yet to start.
Modi was recently included in BJP parliamentary board, the top decision-making body of the party, which many see as a prelude to he being formally nominated BJP's prime ministerial candidate.

Image: Gujarat Chief Minister Narendra Modi