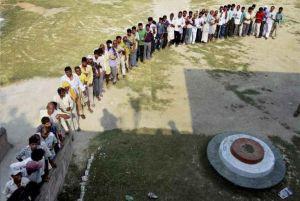 Seeking to buck the trend of recent Parliamentary election in which BJP decimated them, Janata Dal-United, RJD and Congress announced an alliance among the three for bypoll in 10 Assembly seats in Bihar, considered as semi-final before the crucial state poll next year.
As per seat-sharing arrangements reached by the parties, JD-U and RJD will contest four seats each while the Congress will do so on two seats.
The alliance was formally announced by state Presidents of JD(U), RJD and Congress Basistha Narayan Singh, Ramchandra Purbey and Ashok Chaudhary respectively at a joint press conference.
The deal was sealed finally after talks between Congress chief Sonia Gandhi, former chief minister Nitish Kumar and RJD President Lalu Prasad, they said.
Singh told reporters that JD-U will field its candidate on Parbatta, Mohania (SC), Jale and Hajipur seats, while Purbey said his party will contest Chapra, Mohiuddinagar, Rajnagar (SC) and Banka seats.
PCC President Ashok Chaudhary said his party would contest from Bhagalpur and Narkatiaganj.
The three state chiefs said that names of their candidates would be made public in a day or two.
August 2 is the last date for filling of nominations for bypoll that will take place on August 21.
Justifying the alliance of the three parties, JD-U state president said that it was the "need of the hour."
Nitish Kumar, who returned to Patna on Tuesday night after a trip to Mumbai and New Delhi, was not present at the press conference. RJD President Lalu Prasad is in Delhi.
"After recent general election in which BJP came to power by befooling voters, the nation's mood has started changing... we are uniting to check split in anti-BJP votes in election," Singh and Purbey said.
In reply to a question if Congress has come to realise that it cannot fight BJP alone and that is why it was forging alliance with regional parties, PCC chief said situation demands tie-up between like-minded parties to check spread of BJP.
To a question why JD-U has joined hands with RJD against whom they fought for 15 years in the name of ending "jungle raj", Singh said "the things which were relevant yesterday is not so today and those of today will not be so tomorrow."
The state presidents of the three parties attacked BJP and said the bypoll results in Uttarakhand in which Congress won all the three seats, has proved that "trend has started to change against BJP."
Singh, Purbey and Chaudhary said that leaders of the three parties would campaign jointly for each other's candidates.
"If we go by the voting percentage in the Lok Sabha poll, the RJD, JD-U and Congress together has polled about 45 per cent votes against BJP's over 29 per cent vote," Singh said to drive home the point that their alliance was "formidable".
The RJD leader said that his party has made "sacrifices" for the sake of alliance to defeat communal forces represented by BJP.
"Parbatta seat was won by RJD in the last election but we have given it to JD-U in the bypoll," Purbey said.
Bihar minister Samrat Chaudhary had won Parbatta seat in Khagaria district on RJD ticket in 2010. But, he recently switched sides to JD-U and resigned the seat. He was made a member of Legislative Council and inducted as a minister in Jitan Ram Manjhi cabinet.
Out of 10 Assembly seats going to bypoll, BJP had won six of them in 2010 poll, RJD 3 and JD-U one.
Hailing the alliance between the three parties, PCC chief Ashok Chaudhary said that "Bihar has proved to be role model for the country for parties opposed to BJP. The party will take this message to unite non-BJP parties in other states too."
While, the leaders of the three parties were hailing alliance between them, a few workers of JD-U from Hajipur staged protest outside the venue of press conference at Maurya hotel.
They were protesting in anticipation of denial of ticket to long time JD-U worker Dev Kumar Chaurasia in favour of Rajendra Rai at Hajipur.
Kamlesh Rai, Hajipur JD-U unit General Secretary, Umesh Chand Kaptan, district secretary and block chief Dharmendra Chaurasia leading the protest, told reporters that ticket has been allegedly sold to Rajendra Rai by senior JD-U leaders.