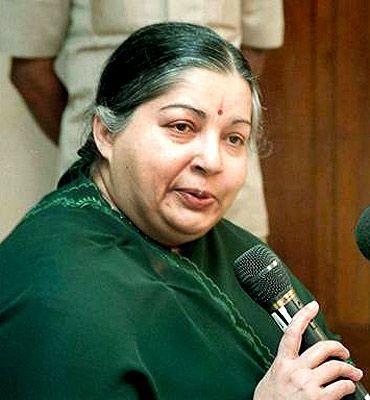 Exhorting her supporters to ensure a "complete win" for the party so that the United Progressive Alliance could be ousted from the Centre, All India Anna Dravida Munnetra Kazhagam supremo and Tamil Nadu Chief Minister Jayalalithaa on Thursday said her party would fight the next Lok Sabha polls on the plank of peace, prosperity and progress.
"The train called AIADMK is now at Fort St George Express (state secretariat). You should make it reach the Red Fort," she told a meeting of party's Executive and General Council.
"In elections, our theme will be peace, prosperity and progress," the Chief Minister said at a packed marriage hall near Chennai where the meeting was held.
Attacking the Congress-led UPA government, Jayalalithaa said it has been repeatedly taking revenge on the people of the state with a "step-motherly" attitude for giving her party a strong mandate in the 2011 assembly polls.
This included the "struggles" in the Cauvery river water sharing issue, including getting the final award notified in the central gazette, she said.
Tearing into the central government, she said it has to be "thrown out," and there was a need for a government that treated Tamil Nadu as a "partner" in national development and one that extends a hand of friendship.
"This (UPA) is an anti-people government and the gifts it has given to the people of the country are unprecedented corruption, soaring inflation, family politics, threats from neighbours and repeated hike in prices of petrol and diesel," she said.
The Centre was unable to handle the problems and not just big countries like China but even small ones like Sri Lanka and Myanmar were intimidating India and a "weak" central government was unable to handle the situation, she alleged.
"A strong leadership is required at the Centre. A powerful central government will ensure that such issues do not arise," she said.
The present government was creating problems not only for Tamil Nadu but entire India she said, adding that the coming elections will ensure a change of guard in New Delhi.
"Only if AIADMK gets complete win (all 40 seats -39 in Tamil Nadu and one in Puducherry), can India's prosperity and security be ensured. So the party has to stand alone and win all 40 seats. That is our aim," she said.
Image: Tamil Nadu CM J Jayalalithaa