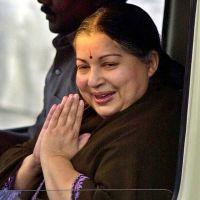 Tamil Nadu Chief Minister Jayalalithaa on Tuesday presented documentary evidence to Congress members in the state assembly to validate her minister's argument that Mahatma Gandhi wanted to dissolve the century-old political party after Independence.
Responding to a demand by some Congress members, who had sought proof that Mahatma Gandhi had advocated dissolving of Congress after Independence, Jayalalithaa stunned them by reading out excerpts from The Collected Works of Mahatma Gandhi -- Volume 90'

"Though split into two, India having attained political independence through means devised by the Indian National Congress, the Congress in its present shape and form, i.e., as a propaganda vehicle and parliamentary machine had outlived its use," the CM read out, embarrassing the Congress members.
During a discussion on Monday, Municipal Administration and Rural Development Minister K P Munusamy had said Gandhi wanted to dissolve Congress after independence, a contention refuted by Congress members S Vijayadharani and Prince.
They claimed Gandhi had never said anything on those lines and demanded proof from the minister, who said it is history and there is no need to produce any proof.
However, Jayalalithaa came up with proof to vindicate her minister's stand.