Sunrisers Hyderabad skipper Kumar Sangakkara feels keeping the Sri Lankan players out of the Chennai matches in the sixth edition of the Indian Premier League is not going to 'curtail' the spirit of the game.
Also Read
-I just want guys to be helping each other out: Donald
-Check out the IPL 2013 schedule
-Delhi Daredevils will miss Ryder and Pietersen: Chand
-IPL format not too friendly for bowlers: Harbhajan
Bowing to intense political pressure, the IPL governing council last week withdrew top Sri Lankan players from all the Chennai matches of the high-profile IPL after Tamil Nadu chief minister Jayalalithaa refused to host them in view of the prevailing anti-Sinhalese sentiments in the state.
"Politics in this case has affected/restricted our presence, our belief to play in every part of India. But I don't think, sports and spirit of cricket is ever going to be curtailed by such prejudice," he said.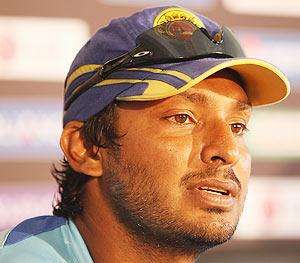 The Lankan great was reacting to a query if politics has affected the participation of Sri Lankan players in Chennai.
"The buildup has been different and difficult for Sri Lankan players. But at the end of the day they are here to play IPL. The Sri Lankan Cricket Board has made it clear that no Sri Lankan players will be (playing) in Chennai," Sangakkara said.
He pointed out that "India is much more than Chennai and Tamil Nadu and I think the rest of India has been very welcoming of us".
"We are here to play cricket representing Sri Lanka and also on behalf of our franchisee."
Reacting to another query, over former captain Arjuna Ranatunga's comment asking the Sri Lankan players to opt out of the tournament over the matter, Sangakkara said, "It's been a divisive issue back home. But this is not a nation-vs-nation issue.
"It's only a state... and I don't think it is the entire state (Tamil Nadu). So, we got to put it in right perspective."
He further said, "Foreign policies are not going to be dictated by that and had it been a nation-vs-nation issue then Sri Lankan players would not have been here."
Sangakkara said the presence of South African speedster Dale Steyn and India's Ishant Sharma will bolster their attack.
"We missed Ishant last year. I think now having him and Dale Steyn spearheading our new-ball attack is really going to be crucial," Sangakkara added.
"Ishant has recently shown even on the flat tracks in India against a quality side like Australia that he can be effective," he said adding that Steyn has been performing consistently over the last four years.
Sangakkara believes both Steyn and Sharma are capable of getting breakthroughs at any given stage of the match.
"…so, we just need that kind of presence at the top of our bowling attack. We are looking forward to really making an impact with them (Steyn and Ishant) be it with the new ball, in the middle or at the death...whichever situation it may be. And I have the confidence that they will deliver in the every single game," Sangakkara said.
Sangakkara said young players would get opportunities in the absence of India's latest batting sensation Shikhar Dhawan, who is recovering from a finger injury.
"Unfortunately, Shikhar Dhawan, who was going to be one of our most important players has suffered a fracture and he will be out for few weeks. So, we have few new faces coming in as well," he said.
Sangakkara said the focus would be on improving the fielding standard as the team.
"I'm really excited to be back because I think over the last two years even though under the old franchisee (Deccan Chargers) we haven't really performed as well as we should have been, Sangakkara said.
"We knew that we were in lot of winning situations and one of the key things which had let us down was fielding. So, it is something that we have to address this year because we have bowled and batted well in quite a number of games," he added.
Photograph: Michael Steele/Getty Images