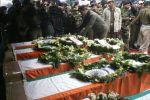 Anger erupted among CRPF jawans over absence of state political leaders at the wreath laying ceremony at Police Control Room here in memory of their five colleagues killed in a 'fidayeen'(suicide) attack.
As officers and jawans of the CRPF and state police bid a tearful adieu to the five slain men, rage overtook grief with some personnel from the paramilitary force targeting Chief Minister Omar Abdullah for not being present at the ceremony.
Abdullah later drove to the airport and laid wreaths on the coffins of the five jawans before the bodies were airlifted to Delhi to be taken to their home towns. Union Minister of State for Home RPN Singh received the bodies at the Palam airport.
"We die for the country, but there is no value for our lives. At least the chief minister should have come to see us," said one jawan.
"If a civilian dies in stone pelting or during violence they (politicians) go to their house but there is no value for our lives," said another.
At the wreath laying ceremony at Police Control Room, some jawans also voiced their resentment against the government for arming them with lathis instead of sophisticated arms while dealing with the law and order situation in the state.
They claimed that most of their colleagues who were killed or injured in yesterday's attack in Bemina area in the outskirts of Srinagar by two suspected Pakistani terrorists were wielding just batons instead of firearms.
"The main reason why the five jawans wwere killed on Wednesday is that they were unarmed. We are deployed with sticks. They don't care about life," one jawan said.
IG CRPF, Kashmir, V S Yadav, however, dismissed suggestions that the CRPF men were unarmed when the attack took place.
"We have a standard operating procedure and that was followed. One-third of the jawans of the concerned company were armed, one third were carrying the riot gear and one-third had lathis," Yadav said.
Director General of CRPF Pranay Sahay and DGP of Jammu and Kashmir Police Ashok Prasad led the officers and jawans of the two forces in paying floral tributes to the five personnel.
Those killed in the militant attack were Assistant Sub-Inspector A B Singh, constables Om Prakash, L Parmol, Subhash and Satish Shah.